Northbound lanes of University Boulevard closing
Northbound lanes of University Boulevard closing
1/16/2020 |
University Communications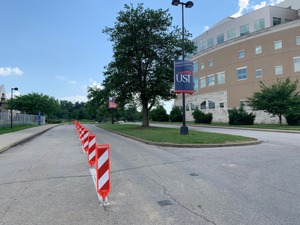 Northbound lanes of University Boulevard on the USI campus will close Tuesday, January 21. The closure will take place in front of the Aquatics Center, near Screaming Eagles Arena and the Recreation, Fitness and Wellness Center.
The closure is expected to last five weeks while large construction materials for the Aquatics Center are delivered and set.
During this time, southbound lanes of the boulevard will be divided into a single northbound and southbound lane.