Local band "Tapestry" to interweave classical music with classic rock in free campus concert
Local band "Tapestry" to interweave classical music with classic rock in free campus concert
1/20/2020 |
University Communications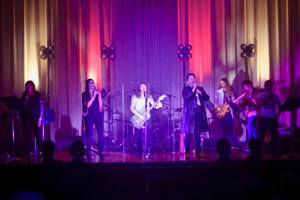 The University of Southern Indiana College of Liberal Arts will host Evansville-based band Tapestry at 7 p.m. Friday, January 24 in the USI Performance Center located in University Center East on the USI campus. The event is being sponsored by the USI Foundation through generous private gifts and is open to the public at no charge.
Tapestry, a five-member rock band paired with classically trained singers, removes the veil between classical music and modern popular hits to bring their audience a high-octane fusion of the best of opera and rock. From Puccini to Pink Floyd and Wagner to Van Halen, Tapestry aims to introduce people to musical traditions that are currently unfamiliar to them in order to bring diverse communities of music lovers together. The band works toward showing the world that the things people have in common are greater than their differences.
Members of Tapestry will also lead master classes for USI theater majors and music minors. Additional details for the performance will be available in early January. For more information contact the USI Foundation at giving@usi.edu.