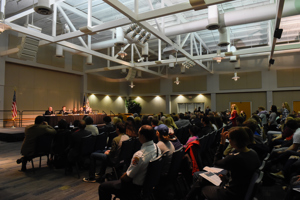 The Court of Appeals of Indiana will hear oral arguments in the case of Harold Warren vs. State of Indiana on the University of Southern Indiana campus at 11 a.m. Monday, February 3. The hearing will take place in Carter Hall in University Center West and is free and open to the public.
The case raised by Warren, who is appealing the denial of his petition for post-conviction relief, is based on a claim of ineffective assistance of trial counsel. Warren claims his trial counsel was ineffective because trial counsel did not present exculpatory evidence, did not hire or consult expert witnesses and did not interview or subpoena witnesses Warren felt were important. The State contends the evidence on which Warren relies from the post-conviction hearings would have been inadmissible at trial.
Presiding over the oral arguments will be the Honorable L. Mark Bailey, the Honorable Melissa May and the Honorable Elaine Browne. A question and answer period between attendees and the presiding judges will follow the arguments.
Traveling oral arguments, or Appeals on Wheels, are conducted across the state to help Hoosiers learn more about the judiciary's indispensable role in Indiana government. They also provide opportunities for Court of Appeals judges to meet and talk with a broad range of citizens in relatively informal settings.
For more information, contact Ashley Reed at 317-234-4859 or at ashley.reed@courts.in.gov.