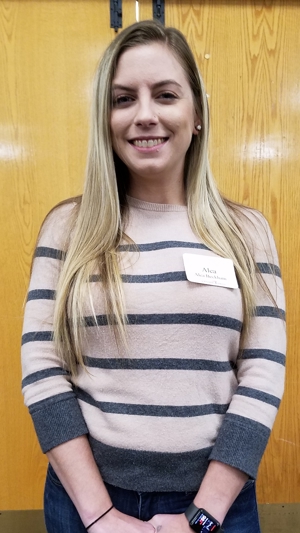 Alea Beckham, a senior history major minoring in secondary education from Woodbridge, Virginia, is the 2019 recipient of the Dain Garrett Merit Award, given annually to a USI student who has overcome a significant obstacle. Beckham will receive a $2,800 scholarship in addition to the award.
Beckham, who was raised in northern Virginia, transferred to USI after earning an associate degree in education and working with youth in daycares, summer camps and a private school. Coming from a low-income background and having struggled in high school, she was able to overcome her academic struggles and obtain a strong high school GPA and financial aid to further her education.
She plans to student teach and graduate in the fall 2020 semester and is pursuing a career as a teacher in a middle school or high school setting.
The Dain Garrett Merit Award was established by Dain Garrett '99, who overcame muscular dystrophy to graduate summa cum laude and earn multiple awards from the USI History Department. He established the award to help other USI students experiencing hardships prior to dying while pursuing a master's degree from California State University – Dominguez Hills. He was the son of Connie Pitzer of Evansville and Don Garrett of Carmi, Illinois.
Gifts to the Dain Garrett Merit Scholarship are accepted by the USI Foundation.