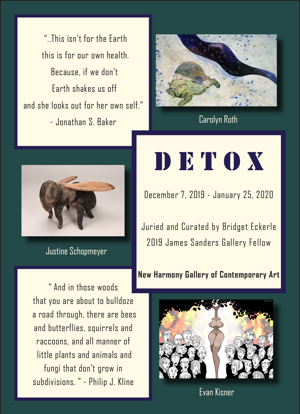 The New Harmony Gallery of Contemporary Art's latest exhibition, Detox, will be on display Saturday, December 7 through Saturday, January 25. The exhibition was curated by USI student Bridget Eckerle '20, public relations and advertising and art, the 2019 James Sanders Gallery Fellow. 
Out of over 100 submissions, 36 artists and seven authors were selected for the exhibit. The artists in the show represent regional, national and international backgrounds, and include many USI students and faculty members. A reception will be held from 4 to 6 p.m. Saturday, December 7 in conjunction with Christmas in New Harmony.
Detox is an exhibition focusing on the environment. Artists and authors were encouraged to reflect on their experiences in nature, which resulted in many interpretations. A variety of environmental issues such as pollution, destruction of natural resources, animal endangerment and deforestation are depicted in the artwork, as well as imagery of Earth's natural beauty.
The materials and media used in this exhibition assist in telling the story by using reclaimed objects, recycled materials and local pollutants. This dynamic and engaging show combines traditional media with new media and 2-d work with 3-d work. 
Eckerle, who completed her fellowship in fall 2019, spent a year learning exhibition design, publicity, curation and management through supervised applied training at the Kenneth P. McCutchan Art Center / Palmina F. and Stephen S. Pace Galleries on the USI campus and the New Harmony Gallery of Contemporary Art.
During her fellowship, Eckerle developed the prospectus for an open-call exhibition, created supplementary graphics relating to the show, juried over 100 submissions, curated the exhibition and turned the exhibition into a collaborative published book made available through Amazon Prime and Amazon Kindle.
This activity is made possible, in part, with support from the Efroymson Family Fund, the Indiana Arts Commission and the National Endowment for the Arts, a federal agency. 
The New Harmony Gallery of Contemporary Art is an outreach partner of the University of Southern Indiana. The gallery is located at 506 Main Street in New Harmony, Indiana. Regular hours are 10 a.m. to 5 p.m. Tuesday through Saturday. For more information, call 812-682-3156 or go to usi.edu/nhgallery.