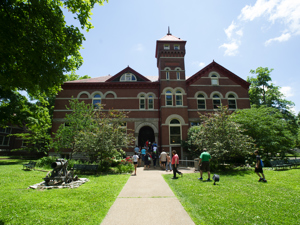 Historic New Harmony is seeking residents of Posey County to participate in a video project to be used as a companion exhibit with the Smithsonian-curated traveling exhibit called Crossroads: Change in Rural America as part of the Museum on Main Street program, which brings exhibitions and programs to rural communities.
This project will look at how Americans have relied on rural crossroads, much like New Harmony and Posey County, for generations. These crossroads were a place for people to gather to exchange goods, services and culture and most importantly, engage in community discussions. Throughout recent decades, both locally and nationally, generations have experienced a disconnect that did not exist in the past.
The video project, titled "Crossing Generations" and produced in partnership with the Purdue Extension-Posey County office, will bring community members from across generations together to share wisdom, memories and visions for our future.
Children and teenagers in the Posey County will be paired with established members of the community to facilitate conversations and a dialog about the future of rural America with questions such as "If you were granted one wish, what change for good would you make in your community?" and "Describe your community in ten years. Who lives here and why?"
These conversations will be video recorded, edited and used in the Crossroads: Change in Rural America companion exhibit on display in New Harmony at Thrall's Opera House from May 9 to June 21 as well as posted on Historic New Harmony's website.
Filming of interviews will take place on February 6, 11, 13, 20, and March 5. Availability for at least two of these dates is required. Those chosen will have to be background checked before participating. If you are interested in participating in this project please contact Claire Eagle at 812-682-4488 or ceagle@usi.edu by Wednesday, January 15.  
"Crossing Generations" is made possible by the Posey County Community Foundation, an affiliate of the community Foundation Alliance, Inc. Crossroads: Change in Rural America is part of Museum on Main Street, a collaboration between the Smithsonian Institution and State Humanities Councils nationwide. Support for Museum on Main Street has been provided by the United States Congress.