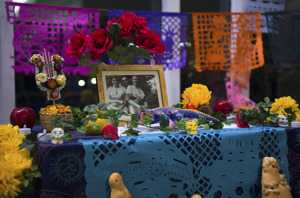 The University of Southern Indiana World Languages and Culture department will hold their 10th annual Day of the Dead celebration at 7:30 p.m. on Wednesday, October 30 in the lobby of the Liberal Arts Center.
New this year, students will begin the event by conducting a candlelight procession outside of the LA building to remember the victims of mass shootings throughout the country. After the procession, there will be a short ceremony with introductions of student organizations and a short speech about the meaning of the Day of the Dead followed by traditional food sharing, craft-making, and Latino dance lessons. This event is free and open to the public.
The mission behind this celebration is "to foster diversity and cultural awareness on USI's campus," according to Dr. Manuel Apodaca-Valdez, associate professor of Spanish. Apodaca-Valdez will talk about Latino cultural identity and the historical meaning of the altar to the dead for Latin American peoples and Latinos/as in the United States.
The event is a collaboration of many student organizations including Spanish Club, Hispanic Student Union/Latinos Unidos, and International Club. Additional support is provided by the USI College of Liberal Arts.
For more information about the Day of the Dead, contact Apodaca-Valdez at mdapodacav@usi.edu or 812-228-5038.