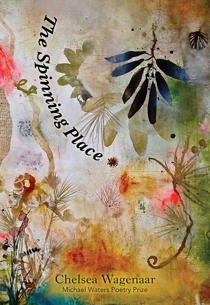 The Spinning Place, a prize-winning collection of poetry by Chelsea Wagenaar published by Southern Indiana Review (SIR) Press, is now available for purchase through Amazon with a wider release planned for November 1, 2019.
The Spinning Place considers the body as the origin of ecstasy and agony, revealing how language—its possibilities and limits—bridges us to one another, but also shatters intimacy. The collection's three sections examine origin, exile, and the reconciliation of praise and sorrow with lyric precision and the heart of storytelling. The poems ask us to behold the ordinary astonishment of birth, motherhood, and faith: to witness the everyday as though it were sacred.
Wagenaar received the 2018 Michael Waters' Poetry Prize (MWPP) for her work. The MWPP was established in 2013 to honor Michael's contributions to Southern Indiana Review and American Arts and Letters.
Wagenaar is also the author of Mercy Spurs the Bone, selected by Philip Levine as the winner of the 2013 Philip Levine Prize, and some of her recent poems appear or are forthcoming in Poetry Northwest, The Normal School and The Southern Review and her recent nonfiction writings appears in Grist. She holds a doctoral degree in English literature and creative writing from the University of North Texas. Wagenaar currently teaches as a postdoctoral Lilly Fellow at Valparaiso University and lives in Indiana with her husband, poet Mark Wagenaar; their daughter; and their son.
SIR is published by the University of Southern Indiana through the support of the USI College of Liberal Arts, the Indiana Arts Commission and National Endowment for the Arts.
For more information visit USI.edu/sir or contact Ron Mitchell, SIR editor, at 812-461-5202 or rmitchel@usi.edu.