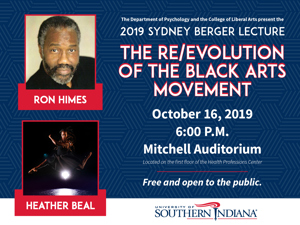 The University of Southern Indiana Psychology Department welcomes Ron Himes and Heather Beal as they present the 2019 Sydney Berger Lecture. Their lecture, "The Re/Evolution of the Black Arts Movement," will be held at 6 p.m. Wednesday, October 16 in Mitchell Auditorium, located on the first floor of the Health Professions Center on the USI campus. This event is free and open to the public.
"The Re/Evolution of the Black Arts Movement" will investigate the continued need for cultural institutions of color. Himes founded his own theatre company in 1976, during the height of the Black Arts Movement. Himes and Beal will ask and address the following question: do we still need a theatre company dedicated to blackness and why?
Himes is an award-winning theater director who has been directing for over 41 years. He is the Founder and Producing Director of The Black Rep and the Henry E. Hampton, Jr. Artist-in-Residence at Washington University in St. Louis.  He has produced and directed more than 200 plays at The Black Rep, including Torn Asunder, Dot, Lines in the Dust, Twisted Melodies, Sunset Baby, Purlie, Black Nativity: A Holiday Celebration, the critically acclaimed productions of Ruined, and The Montford Point Marine. Himes also created and directed the highly acclaimed, Crossin' Over and Tell Me Somethin' Good.
 Beal is the current Artist-in-Residence at USI. She founded The Seventh Floor Repertory Dance Collective and also performs as principle dancer with InnerVision Dance Theater under the direction of Certified Dunham Instructor, Keith Tyrone Williams. She is currently the Company and Box Office Manager at The Black Rep and is a certified Dunham Technique Instructor. Beal holds a bachelor's degree in Dance from Columbia College Chicago and a Master of Fine Arts degree in Dance from Washington University in St. Louis.
The Berger Lecture is presented each year by the USI College of Liberal Arts in honor of Sydney Berger, one of Evansville's most respected attorneys who worked with local civil rights organizations and served as an instructor at USI for nearly two decades. Each year, a guest lecturer presents on the theme of civil rights or civil liberties, celebrating the values Berger cherished.
Questions about the presentation can be directed to Dr. Amie McKibban, associate professor of psychology, at 812-465-1222 or armckibban@usi.edu.