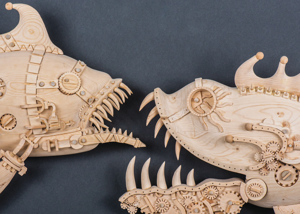 The University of Southern Indiana's McCutchan Art Center and Pace Galleries will host two exhibitions of wooden sculptures and wood-media artwork through October 25, 2019. A free, public reception for the exhibitions will be held at 2 p.m. Friday, October 25.
Still Kicking and Carving: John McNaughton features the work of nationally acclaimed artist and USI professor emeritus of art John McNaughton. The work in this exhibition is made up of meticulously fashioned, wooden sculptures and function objects, both big and small, with subject matter ranging from political commentary to personal struggles.
Complementing McNaughton's exhibition, Our Roots in Wood: Sculpture from the University of Southern Indiana's Permanent Collection features wood-media artworks created by USI alumni. This exhibition was co-curated by Gabrielle Pyle, James A. Sanders Fellow, and Susan Colaricci Sauls M'16, director of University Art Collections.
The Kenneth P. McCutchan Art Center/Palmina F. and Stephen S. Pace Galleries, located in the lower level of the Liberal Arts Building, is open from 10 a.m. to 4 p.m. Monday through Friday, and 1 to 5 p.m. Sunday. For more information, call 812-228-5006.