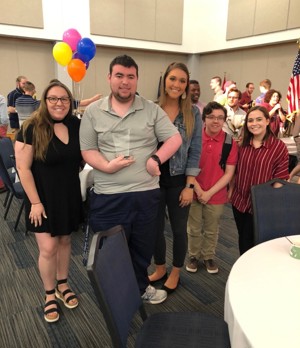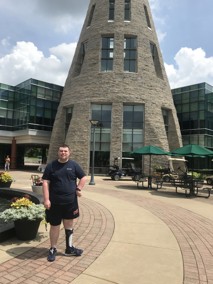 Dedicated, driven and undaunted—each describes Elijah Laine '21, communication studies. Laine, who lives with hemiplegic cerebral palsy, a visual impairment and is on the autism spectrum, was motivated by his own challenges and the encouragement of professors and peers to establish Disability Coalition in January 2019. "A professor in special education told me, 'Your conversations in class are not fit for a classroom. You are due to be out in the community, saying what you are saying and doing what you are doing,'" Laine explains. He used that advice as inspiration to make a difference on USI's campus.
Disability Coalition is dedicated to bridging the gap between abled and disabled individuals, while also advocating for the disabled community. The organization holds weekly meetings where topics such as the Americans with Disabilities Act (ADA), people-first language, identity-first language and misconceptions/stereotypes about disability are discussed. Laine is also working to invite special guests once-a-semester. "I invited Ben Trockman '14 [local disability advocate and Old National Bank diversity and inclusion outreach specialist] to speak at a meeting this past spring, and everyone absolutely loved it," Laine says. "When you talk to him, it's not awkward at all. We are just normal people–we are friends. A lot of people showed up to that meeting, and it was one of my favorites."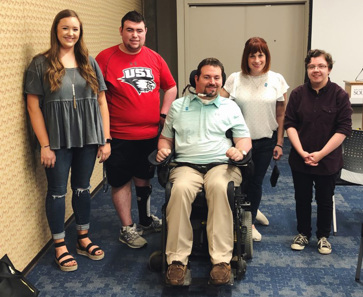 A growing organization, Disability Coalition's 34 members are pursuing degrees in education, physical and occupational therapy, art, political science, communication studies and psychology. Laine's goal is to eventually welcome at least one student from each of USI's majors. "No matter what career path students are training to go into, their career is going to help people with disabilities," he says.
Throughout its short time as an official student organization, Disability Coalition has received support from President Rochon, and was even named "New Student Organization of the Year" at USI's 2019 Student Organization Celebration. "Just to have been recognized for the work we are doing was pretty incredible," says Laine. 
Laine wants his impact at USI to live on through Disability Coalition after graduation. "This is a very important organization, and I really don't want it to die," he says. "I want to find somebody after I leave who has the same passion for this as I do." Until then, he'll continue to build a strong foundation in hopes that Disability Coalition will continue to promote inclusivity and advocacy for those with disabilities for many years to come.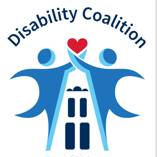 Learn more about Disability Coalition
Facebook: Disability Coalition at USI
Instagram: dc_usi
This story was written by Kaylee Johnson '20, public relations and advertising. Kaylee is a student worker with University Communications.