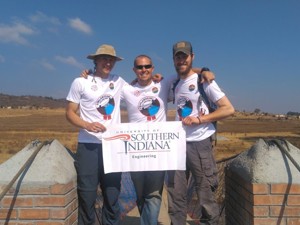 A team of University of Southern Indiana students and faculty representing the University's Engineering Program spent eight weeks in Mdlasomi, eSwatini in southern Africa assisting in the construction of a 95-meter footbridge over the Ngwempisi River—a project with life-saving implications.
Josef Winkler, a mechanical engineering senior from Owensboro, Kentucky, and Koby Lindner, a mechanical engineering sophomore from Boonville, Indiana, alongside Dr. Jason Hill, associate professor of engineering, and Justin Amos, lab manager, spent their summer living in Mdlasomi with the local townspeople.
The USI contingent traveled as part of a team from Cornell University, who had designed and coordinated the project through the Engineers in Action (EIA) Bridge Program, a collegiate program of the larger EIA program that works with indigenous professionals to improve the lives of people in need through sustainable programs that build their capacity while also helping to develop global awareness among program participants. USI's Engineering Program is in the early stages of building its own collegiate chapter of EIA, and the trip was part of an effort to put the University in a place where it can eventually lead its own bridge project from start to finish.
The new bridge provides surrounding communities year-round passage to the town of Mankayne. In 2018, 16 people died while trying to cross the Ngwempisi River during high water. The professionally-designed and -constructed bridge allows for safe and unimpeded foot traffic to markets, jobs and a government hospital.
View a slideshow of photos from the eSwatini Bridge Project
USI students and faculty coordinated with the Cornell chapter of EIA on the bridge design process during the spring 2019 semester. The summer trip to Mdlasomi brought the project full circle, allowing the students and faculty to see in person what it took to build a bridge that would serve more than 540 homesteads in the immediate area. "Our role was simply observing and learning," said Lindler. "But we worked the same as everyone else—moving rocks, mixing concrete, pulling cables. We were working manually every day."
In 2018, there were only eight collegiate chapters of EIA in the United States. The USI chapter would work with peer chapters at institutions such as the University of Notre Dame, the University of Colorado–Boulder and Cornell.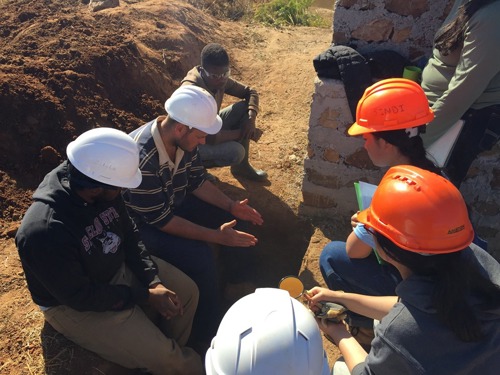 "This project was a tag-along to learn the ropes and prepare for a future project where USI takes more of a leadership role," said Hill. "We hope to do a second shared project next year, where we take on 50% of the project work. By the third year, we hope to be able to do a solo project."
"We were seeing how the logistic manager does their job, the construction manager does their job," said Lindner. "USI would like to do their own project, so we wanted to see what you actually do in these roles."
Beyond the experience of physically building the bridge, Winkler and Lindler connected with the local people and lived within their culture, seeing directly how the new bridge would impact the community and the lives of individuals. Both students celebrated their birthdays while in eSwatini, and Winkler, a member of the USI Men's Soccer team, even managed to keep his training up by helping organize soccer matches between different communities near the build site. "I still have connections that I made in Africa that text me about soccer," said Winkler. "Usually it's harder for students on our team to travel. I'm thankful for the support I got to do this."
"Building a bridge was only about 40% of the trip," said Lindler. "The rest was cultural relations–learning about a different culture, talking to the people. We went there to interact with people and experience a different culture in addition to engineering."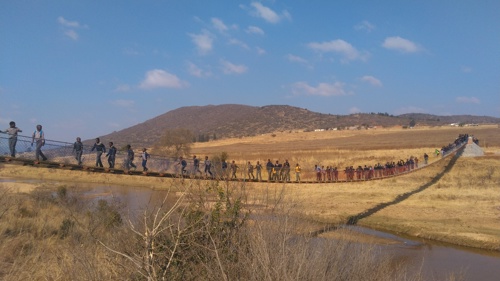 Following eight weeks of construction, the bridge was completed on August 2 with the help of community members, the Bridge Corps and countless hours of work from the students. As USI prepares to undertake its own projects with EIA, the experiences of traveling, absorbing a new culture and working on a project with a life-saving impact resonate strongly with Lindner and Winkler, who both say they will be involved with future EIA projects.
"This project, and where it is taking us when we look toward a future chapter of EIA, is what we mean when we talk about offering quality education and academic excellence," said Dr. Zane Mitchell, dean of USI's Pott College of Science, Engineering and Education. "This kind of hands-on experience is changing lives, whether is for the people of the town, or our students who are being shaped both academically and socially in a way that will stick with them for a long time to come. This is the kind of project that embodies the University's mission to 'prepare individuals to live wisely in a diverse and global community.' We're excited about the future."
For more information about USI's Engineering Programs, contact Dr. Paul Kuban, chair of the Engineering Department, at pkuban@usi.edu.