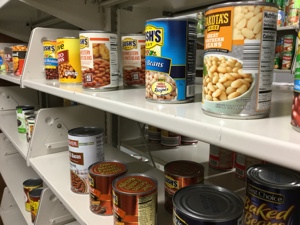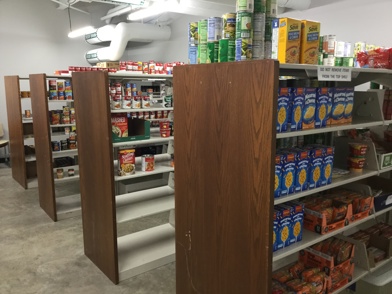 It's been a busy summer at Archie's Closet, USI's free food and personal hygiene resource center. With a new semester about to begin, several shelves are bare. "May, June and July, we averaged 25 visitors those three months," says Michelle Hahn, senior administrative assistant in the Recreation, Fitness and Wellness Center and manager of Archie's Closet. "We're ready for the students to come back, but that also means we're going to see an increase in visitors as school starts."
International students Xenia Adames '23, civil engineering, and Yosep Almanza '23, computer science, appreciate the convenience of Archie's Closet. "It was amazing for me the idea that the students had a backup plan if they ran out of food," says Adames. "It is hard during summer to get off campus, so Archie's Closet is a good alternative."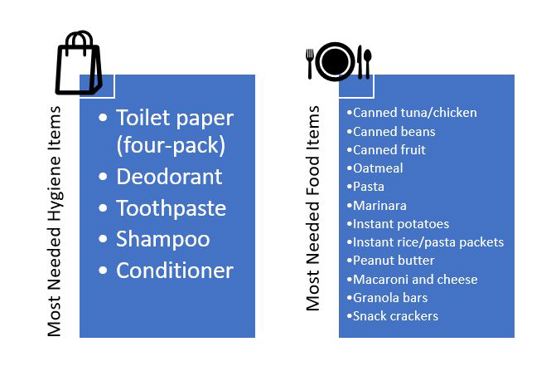 Whenever University transportation doesn't work with his schedule or he's unable to go grocery shopping off campus, Almanza knows he has another option nearby. "I use the Closet at least once every month," he explains. He learned about the resource through a friend and has since told other international students about it. In fact, many international students who arrived over the summer were able to visit Archie's Closet.
"I think it is nice to know that everyone at the University, like staff members, do care about students," Almanza says. "They may not know it, but whenever we go there [Archie's Closet] and we are getting our food, we always think about who had given this food for us, and we can feel the love and the care they have for us."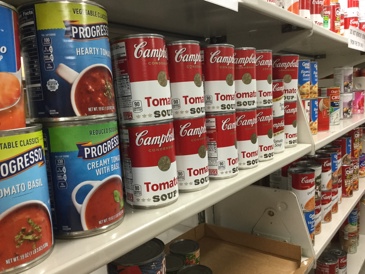 Staff members at the Recreation, Fitness and Wellness Center, where Archie's Closet has been located since 2009, are pleased that a growing number of students and employees are using the campus resource. Hahn says there were just over 500 visits to the service this past year, compared to 141 in 2016-17 and 284 in 2017-18.  "For this past academic year, we averaged 40 visits a day," she says.
"Archie's Closet has been a campuswide effort," says Stephanie Walden-Schwake, associate director of Recreation, Fitness and Wellness. "I think we've done a better job of communicating with different organizations and clubs, and I think it's just the personal touch of getting the word out to people." Resident Assistants and members of the Student Government Association have volunteered to stock shelves after big food drives. A donation is required for students to attend Late Night Breakfast, and employees are encouraged to bring items at several University events, including the Fall University Meeting and Employee Picnic.  
If you are interested in supporting Archie's Closet, contact Michelle Hahn at 812-464-1807 or dmhahn@usi.edu, or drop off donations at the RFWC.
This article was written by Nohemi Chumacero '21, political science, a student worker with University Communications, and Erin Meyer, internal communications specialist.