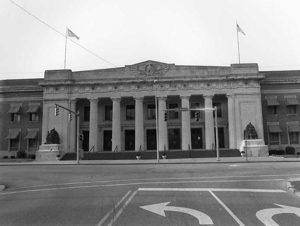 The University of Southern Indiana, through its University Archives and Special Collections, has partnered with the Vanderburgh County Commissioners, Veterans Council of Vanderburgh County, and the Sons of Union Veterans of the Civil War to preserve historical materials currently housed in the Grand Army of the Republic (GAR) Room of the Soldiers and Sailors Memorial Coliseum in downtown Evansville.
The Coliseum, a 66,000 square foot neoclassical structure, was built in 1917 as a tribute to Vanderburgh County's veterans of both the American Civil and Spanish-American wars.
The materials housed in the GAR Room include membership records, minutes from general and board meetings, organizational charters and monographs concerning the Civil War. Jennifer Greene, University archivist, and Tom Lonnberg '84, curator of history for the Evansville Museum of Arts, History and Science, visited the Coliseum and inspected the materials in late June alongside representatives from the County and the Veterans Council.
"I am so excited to work with community partners and to be able to help preserve part of Evansville's rich history," said Greene. "The University Archives and Special Collections has worked hard to build a regional repository to preserve and disseminate local history such as these materials."
USI will perform basic preservation and conservation techniques on the materials in order to protect and restore them. Once complete, select materials will be scanned for online display. Copies of all digital materials will be given to the County and to the Veterans Council.
Also, in June, the University accepted a collection of documents and materials from another military group headquartered at the Coliseum. The 40 & 8 Voiture #471 is the local chapter of a military honor society of American veterans and service members, open by invitation to honorably discharged veterans. The group was named for the trains that carried the troops to the front lines during World War I. Each train car was marked 40&8, meaning either 40 men or eight horses. The group is still active today, but wanted a safe place to preserve their unique history.
Housed on the third floor of the David L. Rice Library, University Archives and Special Collections is committed to acquiring and preserving material about the development and the operations of the University and regional history, focusing on the southwestern region of Indiana. The department is dedicated to preservation and organization of materials for the purpose of research and includes 600 regional collections, over 700 audio/video tapes, and 43,000 images and documents online.
For more information, contact Greene at archives.rice@usi.edu or at 812-228-5046.