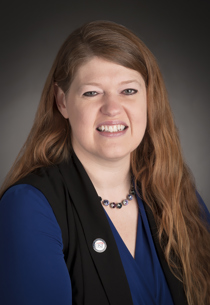 Dr. Mohammed Khayum, University of Southern Indiana provost, has named Dawn Stoneking as interim associate provost for Outreach and Engagement and director of Lifelong Learning effective Thursday, August 1. Current associate provost for Outreach and Engagement, Dr. Mark Bernhard will step down on Friday, August 2, to take a position as vice provost for continuing education at North Carolina State University.
"Since joining our University, Ms. Stoneking has utilized her expertise to make significant contributions in process improvement, performance management and digital marketing in Outreach and Engagement," said Khayum. "I fully expect that she will continue to build on these accomplishments and advance our University's engagement and impact in our region."
As interim associate provost, Stoneking will serve as the liaison to develop and maintain partnerships between USI and community, state, and regional groups and organizations. She will oversee programs including Historic New Harmony, Connect with Southern Indiana, the USI Veteran, Military and Family Resource Center, ROTC, College Achievement Program, the Center for Applied Research and additional efforts in community engagement, lifelong learning and opportunity development.
Stoneking has served as the director of Lifelong Learning at USI since January 2016 and was previously the assistant director of Enrollment and Degree Management at Virginia Tech University. While there, she also served as assistant director for distance learning initiatives and in leadership positions within Continuing and Professional Education in Outreach and International Affairs.
Stoneking holds memberships in the University and Professional Continuing Education Association (UPCEA), Indiana Chamber of Commerce, Southwest Indiana Chamber of Commerce and the National Alliance of Concurrent Enrollment Partnerships (NACEP). She received a bachelor's degree in psychology in 1995, and a master's degree in social work in 2000, both from Radford University. She is currently working on a doctorate in public administration and public affairs from Virginia Tech.