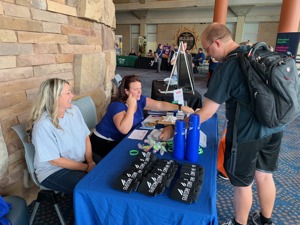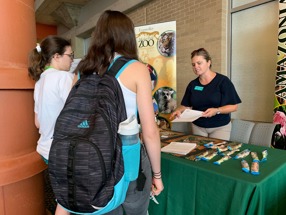 Close to 350 students, including 140 first-year students, attended the first-ever Part-Time Job Fair hosted by USI Career Services and Internships. The event took place Tuesday, August 20 in the Performance Center second floor lobby.
Students were able to visit with 18 employers from the Evansville area, including several on campus employers (Sodexo and the Recreation, Fitness and Wellness Center). Other employer attendees represented companies and organizations such as Delta Global, Mesker Park Zoo, Pizza King, Solarbron and the YMCA.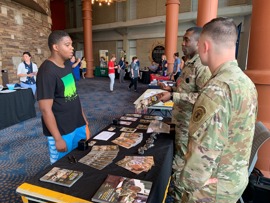 "I have worked here for four years, and during that time, there has been an obvious trend that we have tons of students the first few weeks of class looking for a part-time job. We also had many employers looking for staff at the same time," says Stephanie Fifer, employer recruiting associate with USI Career Services and Internships. "I thought it would be beneficial to host a job fair to connect them early in the semester."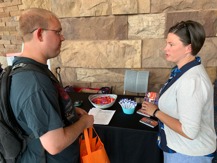 Employers were asked to recruit for jobs that could offer flexibility and would require students to work no more than 25 hours per week. These employers will be surveyed to find out how many students were hired following the job fair.
USI students looking for an internship or full-time job following graduation should plan to attend the CareerLINK Internship and Job Fair Wednesday, September 18 from 10 a.m. to 2 p.m. in Screaming Eagles Arena. More than 80 employers will be in attendance.