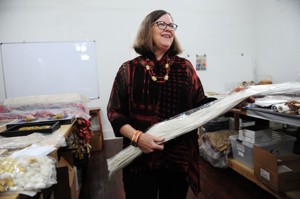 In the upstairs of a building on the corner of Church and Main streets in New Harmony, Indiana, only accessible through the back of Sara's Harmony Way, lives one of New Harmony's best kept secrets: a studio that houses remnants of collaborations, travels and successes from Docey Lewis' 40-year career as a textile designer and entrepreneur in artisan development in emerging economies.  
The public will catch a glimpse of Lewis' rarely-seen work—that incorporates her very successful commercial design career with her new ventures into the fine arts realm—at the New Harmony Gallery of Contemporary Art's latest exhibition, Threading My Way, on display through Friday, October 4. A reception to meet the artist will be held from 4 to 6 p.m. Saturday, August 31 at the gallery, and is free and open to the public.  
Lewis' roots began in New Harmony, long before she ever made it her home 16 years ago. Lewis is a descendant of Robert Owen, a Welsh textile manufacturer and social reformer who brought his utopian experiment to New Harmony in 1825 when he bought the town from the Harmonists.  
Although Owen's "Community of Equality," as the experiment was known, dissolved by 1827, his utopian dream brought significant contributions to American scientific and educational theory, study and practice. His efforts to effect change and enlightenment came to fruition through the work of his children in New Harmony. 
One of Owen's sons, Robert Dale Owen, was active in Indiana politics and later went on to be an Indiana congressman known for pushing through legislation that established the Smithsonian Institution. "Robert Dale Owen had a daughter who we called 'great aunt Rose," Lewis said. "We spent our childhood hearing stories from our mother about great aunt Rose, who lived an extraordinary life traveling the world."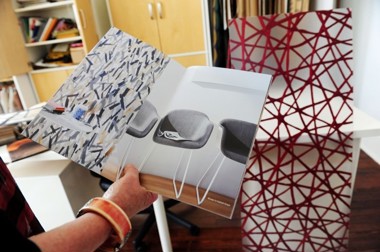 That life of travel and intrigue was passed on throughout generations of Lewis' family. "From the time I was 16, my relationship with my mother was mostly letters, as she was roaming the world as part of the cooperative movement," Lewis said. Ten years later, it was no surprise that Lewis started traveling the world for business.  
Lewis spent time in the fashion and art industries but ultimately did not feel like she was having much of an impact on the world, so she took her talents to the Philippines, bought a mill and began teaching her workers to source local materials and make them into fibers to weave handbags and wall coverings.  
She has traveled to 45 countries helping in community development, by teaching groups of people, many in remote communities, how to build sustainable lives through handicrafts that Lewis would incorporate into her designs for clients such as Christian Dior, Maya Romanoff, Neiman-Marcus, Oleg Cassini and 3form, among others.  
"I really love collaboration and giving jobs to people that need it," Lewis said.  "What I love about the process is we make all the things we use, so there is another level of artisanry and many hands touching everything, from the farmers, processors, winders, weavers, dyers and paper backers then to the supply chain on this end of the world." 
Lewis' work covered the walls of the treaty room in the White House under President Barack Obama and now lines the walls of the Obamas' personal residence.
Through her numerous successes in the commercial world and achievements in international community development in remote regions all around the globe, Lewis has collected many materials and stories housed in her upstairs studio.  
"Part of my interest in having Docey exhibit in the gallery is to showcase what is going on up here in this top floor, behind that back door of a place the general public doesn't have access to, and only a handful of people have seen over the years," Garry Holstein, director of the New Harmony Gallery of Contemporary Art.  
As Lewis slows down in her professional career, she is spending more time at home, delving into fine arts. The exhibition in New Harmony is a big step towards that new venture.  
After building a career based on sustainability, through the materials she has used and the artisans she has educated, it is only fitting that Lewis' arts comes from the remnants of projects she has worked on throughout the world. Using cut off edges of weavings, scraps of unused handmade materials too precious to throw out, Lewis is giving them new life. Threaded through each of her creations are many stories of places and people she is fortunate to call friends.  
Lewis titled this show after Robert Dale Owen's autobiography, Threading My Way, a reflection on his life of travel and family. "The book is about his reflections on his father. And how his father miscalculated human nature versus nurture. He gave humans the benefit of the doubt and believed he could mold them from a very young age no matter what their DNA was," Lewis said.  
"I highly believe in nurture, and that is why I came to New Harmony. It is not really nurturing many children right now, but it is definitely nurturing adults."
This activity is made possible, in part, with support from the Efroymson Family Fund, the Indiana Arts Commission and the National Endowment for the Arts, a federal agency. The New Harmony Gallery of Contemporary Art is an outreach partner of the University of Southern Indiana. The gallery is located at 506 Main Street in New Harmony, Indiana. Regular hours are 10 a.m. to 5 p.m. Tuesday through Saturday. For more information, call 812-682-3156 or go to usi.edu/nhgallery.