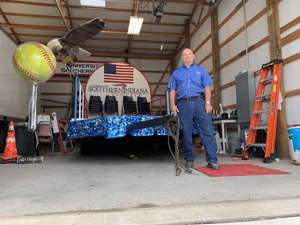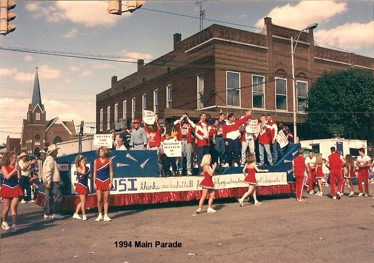 In the winter of 1986, USI needed a maintenance mechanic, and Jerry Bulger needed a job. "I happened to see an ad in the paper and came out and interviewed," he says. He had the skills—sharpened by carpentry work in the Navy and home building after his military service—but couldn't have predicted the long-standing special project they'd be needed for a few years later. "We were given an old school bus [chassis] that was used as a float for the City of Evansville. My supervisor said, 'Here it is. Do something with it,'" Bulger recalls.
Thirty years later, he's still creating—and driving—USI's award-winning float in the West Side Nut Club Fall Festival Parade. "I try to change it just a little bit every year," he says. "Sometimes it's a drastic change, and sometimes it's very minor."
His favorite design to cruise down West Franklin Street featured a handmade replica of the University's roundabout fountain and a custom, 50-pound foam eagle. Last year, its nine-foot wingspan made a return appearance atop a giant yellow softball signed by members of the 2018 Division II National Championship USI Softball team, who came along for the ride. The 2019 edition is still in development. "Jerry—not just with the float, but with all things on our campus—brings a craftsmanship that elevates the quality of what we're doing. Our presence in that parade is presented with a quality float with a professional look," says Sally Smith, director of community engagement and special projects.
Much like his love of carpentry, Bulger began to develop another lifelong passion while in the Navy: firefighting. He helped the Ohio Township Fire Department get its start in Warrick County before joining the Perry Township Volunteer Fire Department in the mid-1990s. He's served as chief for 15 years and responded to more than 12,000 runs—some on USI's campus—in addition to his maintenance duties. "It could be anything from a cut finger to a cardiac arrest." he says. "You've got to do them all."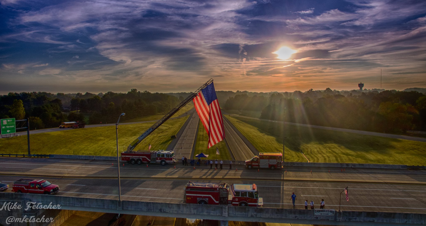 On November 6, 2005, that meant responding to one of the deadliest natural disasters in Evansville's history. "The tornado," he says. Twenty-five people were killed as the F3 twister tore across the area overnight. After first responding to Ellis Park, Bulger spent three days at Eastbrook Mobile Home Park, sifting through debris and helping rescue survivors, including a young boy. "When that pager goes off, everyone works together to get the job done," he says.
USI employees have likely seen that teamwork on display each fall, when Bulger and his 45-member firefighting team display a giant American flag on the University Parkway overpass to commemorate the terror attacks of September 11. "I'm out there every year, all day long," he says. "People will honk, they wave, they stop, they bring cookies and donuts, they drop off a donation. I mean, the response is unbelievable."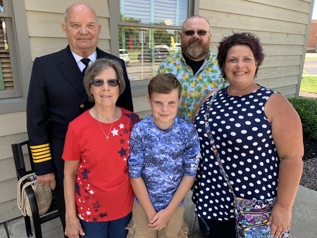 So is the milestone Bulger recently achieved. In April, he and a small group of fellow firefighters were recognized for 50 years of dedicated volunteer service by the Indiana Volunteer Firefighters Association, highlighted by a trip to Indianapolis and a proclamation delivered at the Statehouse. Last month he was honored as a local hero at the grand reopening of Logan's Roadhouse on Evansville's West Side.
At 70, whether he's building a float, handling a fire hose or flying a flag, Jerry Bulger is still looking for a challenge and a way to help—his University, his community and his country. "I enjoy doing it," he says. "As long as I'm healthy, and as long as I still enjoy doing it, I'll continue doing it."