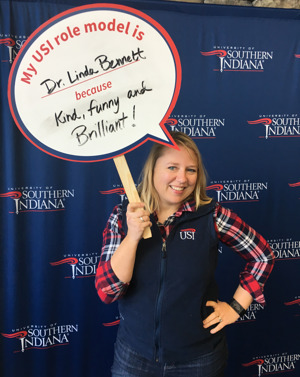 In the late '90s, USI students who didn't know how to format margins or change font sizes didn't ask Google; they relied on a flourishing computer publishing major from Cannelton, Indiana. "At that time, not many people had personal computers or access to the latest software," explains Brandi (Schwartz) Hess '00, a former USI computer lab monitor. "I was lucky to have had a lot of experience with both in high school and could easily figure it out."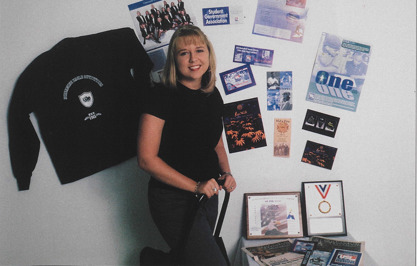 Plus, the job came with a valuable perk. "You were able to get homework done while you were working," she says.
Twenty years later, Hess is a much busier lab monitor. As USI's director of Web Services, she oversees the University's intricate digital footprint, which includes tens of thousands of webpages. "I represent the web team to the University community but am still in the trenches—working on pages, troubleshooting issues and developing a strategy for the website," she says. "I left USI for a couple of years and returned [in 2010] because it's a great place to work. I like the higher education niche of websites and marketing." 


One of Hess's proudest USI moments came in 2014, when she was involved in the University's new logo and branding initiative. "I don't think people realize the amount of planning and thought that goes into a new logo. Having a collaborative process with the campus community was a great experience, and then finally ending with a logo launch event was very memorable." 
A former Student Government Association officer (and two-time Top Ten Student Award winner), Hess is now secretary/treasurer of USI's Administrative Senate—still committed to improving the University she's called home for two decades. "Not only do I work with really talented people, they're fun to be around, too. It makes working here truly enjoyable," she says.




Six Things to Know About Brandi Hess
Hess was featured in a Spring 2000 USI Magazine article titled "Design Unfolds: Brandi Schwartz leaves campus a better place."
As a student, Hess enjoyed playing intramural volleyball. Now she often trains for half marathons during her lunch break.
During her time as a graphic designer for The Shield, Hess helped redesign the student newspaper.
Hess is a regular at USI's student ceramics sales and showcases several items in her office in the Wright Administration Building.
The giant clay columns in UC East and the Performance Center were made by Can-Clay, a company in Hess's hometown of Cannelton.
Hess's first boss as a student computer lab monitor was Juzar Ahmed, USI's academic services coordinator for Information Technology.
 Know a USI alum we should feature next? Email emeyer@usi.edu.