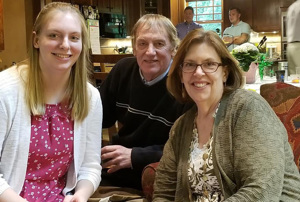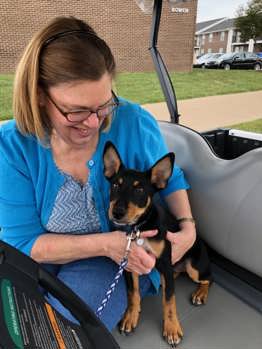 Whether she's loading the car, bagging her groceries or assigning rooms to the 2,700 students who live on USI's campus, Cathy Goldsborough, assistant director of business operations for Housing and Residence Life, doesn't stop until she finds the perfect fit. "I'm an arranger," she says. "I maximize all the different scenarios to make it come out the most efficient way." Her goal? "To make as many students happy as I can."
Before joining the USI staff in 2009, Goldsborough worked in Residence Life and several other offices at James Madison University, while earning her master's degree. But much of her adult life was spent in an entirely different realm. "I was a florist and a baker," she explains. "I grew up in central Illinois, heavy in 4-H projects. I did very well in flower arranging and cake decorating."
She baked her first wedding cake (for her sister) when she was 16 and has fulfilled the culinary requests of dozens of brides since—including Housing and Res Life administrative assistant Mikayla Shreves. Lately, though, she's traded her tiered masterpieces for smaller confections. "I make tons of cupcakes. The fancy ones with all kinds of fillings, and then [I] decorate the tops," she says, adding that she once made 500 of them for an event.
Not only are her co-workers tried and true taste testers, Goldsborough also appreciates the levity they provide. "We have a lot of fun over here. It's a really good environment," she says. "We don't take ourselves too seriously. We take our work seriously, but not ourselves."  
Let's get to know more about this ultimate organizer and baking buff.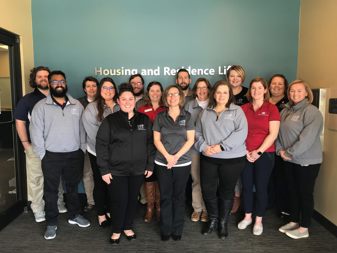 What do you enjoy most about your job?
It's different every day. You never know what issue is going to walk through the door, and I enjoy the puzzle and trying to rearrange it to make it work.
Are you also good at packing cars?
Yes. And I don't allow anyone to help me. I'm horrible about that. And my daughter laughs—I am so happy when there's not a bagger at the end of the grocery aisle. I will bag my own groceries every time because I would rather do it myself.
If you could only eat one flavor of cake or cupcake that you make for the rest of your life, what would it be?
I like all the varieties of lemon. I've done a lot of different [kinds], like lemon thyme with lemon curd in the middle…. The next one I want to try sometime is an Earl Grey and lavender…. I'm going to experiment with that and do an Earl Grey custard, I think, in the middle.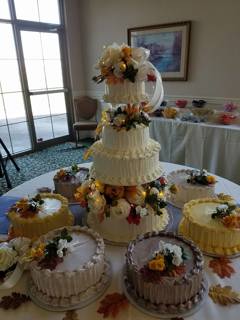 Would you ever compete on a baking reality show?
It would be fun. I'm not like those bakers that do this professionally. I don't know that I could do it in 20 minutes like they do. Give me a week to figure it out and prepare it and then do it.
Are you more of a traveler or a homebody?
Both. I like being at home, but I like traveling with no itinerary. My husband and I are both more explorers; we have always been that…. We would have a direction and be like, "Well, we've never been to this part of Colorado, let's go." And we would just wander around for a week, and if we saw something interesting, we'd stay. If we didn't, we'd keep going. And we've always done that; we've wandered, and that's fun.
As a parent of a future Screagle, at a time when some are questioning the value of higher education, why do you feel a USI degree is valuable? (Goldsborough's daughter, Lily, is a senior in high school and plans to attend USI next year.)
For me, it's valuable for students out of high school to get to know other students from other areas who are so vastly different from what they are. Because, before they hit the job market, they have to learn to get along with people who are different from them, and this is the only place that I know—a college environment—where you can learn to get along with different people with support. Otherwise, you're just in the job, and if you screw it up, you're fired. Here you're going to learn with support and help before you have so much invested in your first job…. I think you learn as much living on campus as you do in the classroom.
The hardest thing is how do we get students to ask for help when they need it… because we will help, but how can we reach them when they are having issues, before it's too late.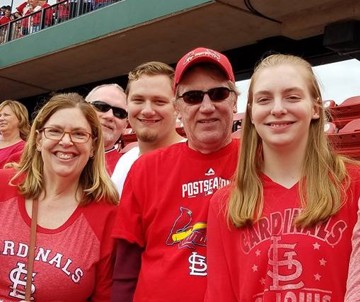 Think back to when you were your daughter's age. What word or feeling comes to mind about that part of your life?
That's where the comment comes from, "How do we reach them when they're in trouble?" Because as extroverted as I am now, I was terrified to walk in a professor's door to ask for help [as a college student]. I was not brave enough to walk through the door. So, it's trying to [figure out] how you reach those students that aren't brave enough to walk through the door, because I would have been one of those students.
Complete this sentence. "The most difficult thing about parenting a teenager is… "
Mine is easy. She's very conscientious. She's a worrier, so I have to talk her off a ledge rather than motivate her…. So, the hardest thing about her being a teenager is, I think, more so making sure I'm giving her the right advice probably more than anything—kind of the responsibility of that. She actually listens to us.
In the spirit of the University's role models campaign, who is one of your role models?
Dr. [Marcia] Kiessling, [Vice President for Student Affairs]. I admire her strength and her advocacy for the departments that she supervises, and the way she listens when we need something. And she gives great advice.