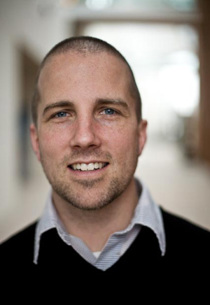 Matthew Vollmer, the 2019 New Harmony Writer-in-Residence, will hold a free, public reading of selections from Permanent Exhibit, his latest publication, at 7 p.m. Thursday, July 18 in the Atheneum in New Harmony, Indiana. 
Vollmer is the author of two story collections—Future Missionaries of America and Gateway to Paradise—as well as two collections of essays—inscriptions for headstones and Permanent Exhibit. He was the editor of A Book of Uncommon Prayer, which collects invocations from over 60 acclaimed and emerging authors, and was co-editor of Fakes: An Anthology of Pseudo-Interviews, Faux-Lectures, Quasi-Letters, "Found" Texts, and Other Fraudulent Artifacts, which collects a number of stories that masquerade as other forms of writing.
Vollmer's work has appeared widely in magazines, including: Paris Review, Glimmer Train, The Sun, Virginia Quarterly Review, Epoch, Tin House, The Oxford American, Colorado Review, Gulf Coast, Ecotone, Hayden's Ferry Review, Antioch Review, Willow Springs, DIAGRAM, Portland Review, Tampa Review, Passages North, PANK, New England Review, The Normal School, Confrontation, Salt Hill, Fugue, PRISM International and New Letters. He is the recipient of a 2010 National Endowment for the Arts grant, as well as the Sturm Award for Creative Arts at Virginia Tech. His work has been short-listed three times for the Best American Short Stories series, and appears in Best American Essays 2013. For a brief time, he served as editor for the 21st Century Prose Series for the University of Michigan Press.
Vollmer teaches creative writing and literature as an associate professor of English at Virginia Tech. He has a bachelor's degree in English from the University of North Carolina, a master's degree in English from North Carolina State University and a Master of Fine Arts degree in fiction writing from the Iowa Writers' Workshop. He lives in Blacksburg, Virginia with his wife and son. 
Following the reading, Vollmer will hold a brief question and answer session with attendees and be available for book signings. Light refreshments will be provided, and copies of Vollmer's books will be available for purchase. For more information, contact Casey Pychor, University of Southern Indiana assistant professor of English, at cpycior@usi.edu.