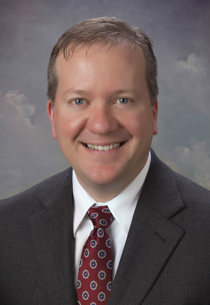 The University of Southern Indiana will hold a Commencement ceremony for undergraduate students in the College of Nursing and Health Professions at 3 p.m. Saturday, April 27 in the Screaming Eagles Arena on the USI campus.
The Commencement speaker for the College of Nursing and Health Professions is Dr. Stanley J. Tretter, master's class of 2017. Tretter earned a bachelor's degree summa cum laude in biology from Wabash College, a doctorate in medicine from Indiana University with a residency in family practice from Deaconess Hospital in Evansville, and a Masters of Health Administration degree from USI.
Tretter is the vice president of Medical Affairs and chief medical officer for Memorial Hospital and Health Care Center (MHHCC) in Jasper, Indiana, where he also has served as a family physician since 2001. MHHCC has received a Centers for Medicare and Medicaid Services (CMS) five-star rating for overall quality of inpatient care since the ratings were released. In 2018, MHHCC was named a recipient of the Malcolm Baldrige National Quality Award, presented annually by the National Institute of Standards and Technology and the highest level of national recognition for performance excellence that a U.S. organization can receive.
Tretter's organizational and community service efforts include being the executive director of the Southwestern Indiana Graduate Medical Education Consortium and the Regional Clerkship Site Leader for Family Medicine for the Indiana University School of Medicine. He is a member and past president of the Spencer County Board of Health, an officer for the Edwin C. Tretter Foundation, and has served on numerous councils and committees within MHHCC, including serving as a member of the Board of Directors for Memorial Hospital from 2012-15. He and his wife Jennifer reside in Ferdinand, Indiana, with their three daughters.
Guests are not required to have tickets for the Spring 2019 Commencement ceremonies but graduates must make a reservation to participate. All planning to attend are strongly advised to review the Screaming Eagles Arena Prohibited Items and Security Policy at USI.edu/arena-security. Once capacity within the Arena is met, attendees will be directed to the University Center East Conference Center, where a livestream of the ceremonies will be shown.
A reception for the graduates and their friends and families will follow the ceremony and will be held in University Center East.
Three other colleges at USI will conduct ceremonies on Saturday, April 27 according to this schedule:
College of Liberal Arts, 9 am.
Romain College of Business, noon
Pott College of Science, Engineering, and Education, 6 p.m. 
A commencement ceremony for graduate students will be held at 6:30 p.m. Friday, April 26. Live video of each ceremony will be streamed in University Center East Conference Center (Rooms 2217-2220). The ceremonies also may be viewed online at USI.edu/live-stream.