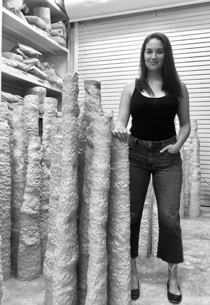 In honor of its 50th anniversary, the University of Southern Indiana Foundation has awarded Alexandria Bailey '14 a commission for a new sculpture to be located outside the McCutchan Art Center/Pace Galleries in the Liberal Arts Center on the USI campus.
Bailey's sculpture, Standing Together, will consist of five ceramic columns standing between nine and 12 feet tall, one for each decade of the USI Foundation's existence. In her description of the work, Bailey says that viewers will be able to walk among the columns and hopes the piece will "serve as a starting point for fostering empathy and as a site to develop and nurture fellowship."
After graduating from USI with a bachelor's degree in ceramics in 2014, Bailey has had artwork displayed by the Arts Council of Southwestern Indiana, the Edwardsville Art Center, Wood River Museum and Visitors Center, Companion Gallery in Humnoldt, Tennessee, Southern Illinois University and Southern Illinois University Edwardsville. She currently is pursuing a Master of Fine Arts degree in ceramics at Southern Illinois University Edwardsville.
Work for Standing Together will be completed in the Dowhie Ceramic Center on the USI campus beginning this summer. Installation is tentatively planned for the fall 2019 semester.
Founded in 1968, the USI Foundation's mission is to attract, acquire, and manage donors' charitable gifts to support and sustain the goals of the University of Southern Indiana. Funding for the commission is being provided by a generous private donor. For more information, visit USI.edu/giving.