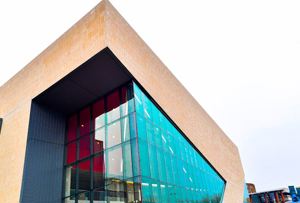 As the University of Southern Indiana prepares for the official opening of its new Screaming Eagles Arena the first week of April (Inauguration Week), guests are encouraged to review the arena's security policy.
Some events held in the Screaming Eagles Arena may require a search process in order to prevent unauthorized and/or prohibited items from entering the building. Guests who refuse to submit to a metal detector screening, security wand or visual search will be refused entry. For crowd safety, Public Safety and law enforcement personnel reserve the right to inspect and prohibit any item deemed inappropriate.
Prohibited items include:
Weapons: firearms, explosives, knives, or any object intended to be used as a weapon (Full USI policy)
Backpacks, large purses, diaper bags[Maximum bag size allowed -- 14" x 14" x 6"]
Outside food or beverages
Inflatable objects
Metal or glass containers of any kind
Strollers
Umbrellas (must be left outside entry doors)
Clothing or other items with offensive/inappropriate language
Animals/pets (excluding service animals)
Balloons
Noisemakers
Laser pens/products of any type
Drones
Bicycles, inline and roller skates, skateboards, scooters, shoes with wheels
(Please pay special note to the maximum bag size allowed inside the Screaming Eagles Arena. Guests with bags that exceed size requirements will be asked to return the bag(s) to a vehicle.)  
As the University of Southern Indiana is a tobacco-free campus, smoking and the use of other tobacco products, as well as electronic cigarettes, are not permitted inside the Screaming Eagles Arena. There are no areas designated for smoking outside the arena.
To review the complete security policy for the Screaming Eagles Arena, visit www.usi.edu/arena-security.
To see the complete schedule of events for Inauguration Week, visit www.usi.edu/inauguration/schedule-of-events.