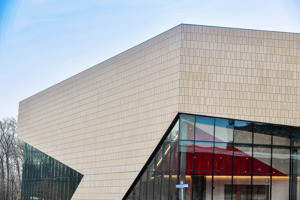 As Inauguration Week approaches—and with it the public reveal of USI's new Screaming Eagles Arena— Jim Wolfe, director of facility operations and planning, is doing his best to keep his emotions in check.
"I'm trying to remain calm and stay out of the way while finishing touches are going on," says Wolfe. "Every time that I go over there [to the arena], it's a little bit more, 'Wow'. A tremendous number of people have put a lot of time into this."
By now the basketball court is down, seats are in place and graphics are going up. Phase I of the project that broke ground two years ago is almost complete. And Wolfe can't help but gush about it. 
"It's magnificent. When you're designing it and you see renderings, it's like, 'Yeah, this is really going to look good.' But when it gets in place, it just looks so much better," Wolfe explains. "There's no other stadium or arena comparable to it in the region."
That's in part because of the facility's size, he says. "If you come to a basketball game here, you can almost touch the players sitting in the chairs and on the court because you're so close." Just 12 feet separate the front row and the court.
"Every one of the seats has a great view, the corporate boxes are big time and an area set aside for the Varsity Club looks straight onto the court through large windows," adds Doug Claybourn '77, a former USI Athletics employee and one of the few who has been inside to see the arena's progress. "Particularly impressive was the locker room with a three-dimensional eagle logo on the ceiling, large-screen monitors to watch game video and unique lighting."
Nine-year-old Screaming Eagles basketball fan Austin Groeninger can't wait to see it all.
"He keeps asking about the new arena," says Austin's mom, Kendra Groeninger '03, USI's manager of internal audit. Groeninger is excited to bring Austin and her husband to a special alumni reception for President Ronald Rochon's inauguration in the arena Monday, April 1 from 6-8 p.m.
"I want my family to see what an awesome place USI is," Groeninger says. "I've known that since 1999 when I chose to come here, but my husband and son are just now catching up to my love for this campus."
The Screaming Eagles Arena will be officially unveiled to the public on Thursday, April 4, at "Leadership: Taking Charge," a moderated discussion with General Colin Powell, USA (Ret.) open to the USI community and the public, at no cost.
The following morning, University officials ask students, faculty, staff, alumni and community supporters to fill the stands as history is made at the Inauguration of Dr. Rochon, the fourth president of USI and the first African American to hold the position.
"Alumni need to 'own' their school and get involved," says Claybourn. "They should see it as not just some place they attended classes, but a place in which they rightfully have a vested interest. I'll be disappointed if the arena isn't full for all inauguration events."
Inauguration Week: How to Participate
Monday, April 1: RSVP for Alumni Reception and Tour of the Screaming Eagles Arena
Thursday, April 4: Romain Innovative Speaker: General Colin L. Powell, USA (Ret.)
Friday, April 5: Presidential Inauguration of Ronald S. Rochon