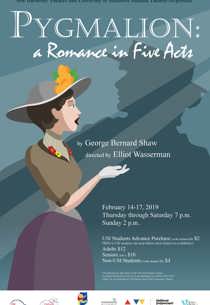 University of Southern Indiana Theatre will continue its 2018-2019 season with the classic play Pygmalion, written by Bernard Shaw and directed by Elliot Wasserman, professor of theatre. The production runs from Thursday, February 14 through Sunday, February 17 in the USI Performance Center located in University Center East on USI's campus.
Co-produced with New Harmony Theatre, which operates under a contract with the Actors Equity Association, the professional union of actors and stage managers, the production will feature two professional actors in the cast—Ronald Keaton and Bryan Vickery—and union stage manager Margaret Kayes.
Pygmalion, named after the sculptor in Greek mythology, tells the story of upper-class gentleman Henry Higgins transforming a lower class young woman, Eliza Doolittle, into a duchess in only six months.  What Henry does not anticipate are Eliza's intelligence and independent nature. Will the story end in the same romantic way as the Greek myth or take a much different turn?
Wasserman will be joined by a design team including USI faculty member Paul Weimer as scenic designer; USI staff member Kevin Gray as sound designer; USI staff member Shan Jensen as costume designer; USI staff member Andy Hammond as technical designer; and USI students Rafael Gonzalez III as lighting designer and Robin Lusby and Cole Henrich as assistant stage managers.
The cast of Pygmalion includes USI students Ashtyn Cornett, Otto Mullins Jr., Easton Crisp, Kaitlyn Kearschner, Isabelle Rogers, Paige Murray, Zoie Hunter, Perci Hale, Trevor Maxey, Kyle Meunier, Dillon Betz, Brennan Hobson and Brandon Douglas. Tickets are $2 for USI students, $10 for USI employees, $4 for non-USI students (student ID required), $10 seniors (60+), and $12 for adults. Tickets are FREE to USI students with ID one hour before the show begins based on availability. Shows start at 7 p.m. Thursday through Saturday and 2 p.m. for the Sunday matinee. To purchase tickets or for more information visit USI.edu/Theatre or call the box office at 812-465-1635. Follow us on Facebook at USITheatre and NewHarmonyTheatre and Instagram @USI_theatre for updates and photos.
USI Theatre's final show for the 2018-2019 season will be the new musical comedy First Date with adaptation by Austin Winsberg and music and lyrics by Alan Zachary and Michael Weiner. The musical is directed by Eric Altheide, associate professor of theatre, and will run from April 11 - 14.
Please join us this summer for productions by local professional theatre, New Harmony Theatre!  This summer's season will be Good People by David Lindsay-Abaire, running from June 21 – June 30; Always…Patsy Cline by Ted Swindley, from July 12 - July 21; and Driving Miss Daisy by Alfred Uhry, from July 26 - August 4.  Tickets are on sale now and can be purchased online at USI.edu/nh-theatre/tickets/ or by phone at 812-682-3115.