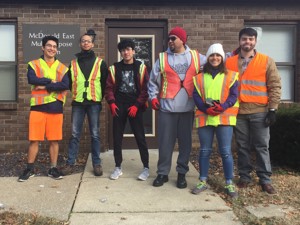 USI's Hispanic Student Union (HSU) broadened its horizons beyond campus this semester, with a project that will reduce litter along a stretch of highway leading to USI's campus.
The HSU's mission is to promote the recognition and involvement of Hispanic and Latino students at USI, while additionally sponsoring and promoting programs to enhance and increase knowledge and appreciation of cultural diversity.   
This past year, the organization adopted a strip of highway on the west side of Evansville from the Adopt A Highway program, which works to reduce ugly, dangerous highway litter. Sponsors of Adopt A Highway pay an annual fee to receive a logo sign, while the Adopt A Highway organization provides 100 percent of the highway litter removal costs. These highway sponsorships get millions of impressions annually, reaching a vast and varied amount of consumers daily.    
Fabian Becerra, HSU community service chair, was inspired by Cesar Berríos Chavarria, USI multicultural program advisor and the HSU advisor, to implement the Adopt A Highway project within the Evansville community. "It was Cesar's idea last semester. He said the fraternity he was in at his college did something similar, that's when I stepped up as community service chair," said Becerra. "I went to the Department of Transportation and set things up with them for Adopt A Highway."
The Adopt A Highway program requires that the HSU gather litter off of the highway four times annually. Twice a semester, the HSU gathers along the Lloyd Expressway—from underneath the University Parkway overpass to Boehne Camp Road--a lengthy two mile-stretch, to clean up litter. As many as 15-20 members typically help out on these designated litter pick-up days.
Becerra noted that his group finds it important for the HSU to help keep the University up to its highest standard. USI is refined and reputable, therefore, the highway leading to it needs to display those same qualities. "It's giving back to the University, making sure that we do our part," he said. "We're doing our best to keep the University clean."
As the community service chair for the HSU, Becerra knows his main focus is to provide service for others. Everything the HSU does has an underlying tone of "bigger than ourselves." "What we do should never really be about just recognition," he said. "There should always be a why behind the projects we do."
As the advisor of the HSU, Berríos Chavarria explained that he is excited for what's to come in the HSU's future. "They have the numbers and they have the leadership," he said. "I know they can make a big difference on USI's campus, and in the Evansville community, as well."