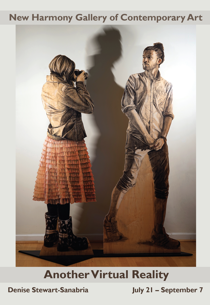 The New Harmony Gallery of Contemporary Art's latest exhibition, Another Virtual Reality by Denise Stewart-Sanabria, will be on display July 21 through September 17. An opening reception for the artist will be held at the gallery from 4 to 6 p.m. Saturday, July 21. The exhibition is free and open to the public.
Another Virtual Reality features Denise Stewart-Sanabria's realistic life-size charcoal portrait drawings. Her works push the boundaries of traditional drawing in that they are cut in the shape of the subject and staged in conceptual installations throughout the gallery space. Sanabria received one of two annual Tennessee Art Commission 2019 Individual Artist grants for this series.
Sanabria received a Bachelor of Fine Arts in Painting from the University of Massachusetts Amherst and currently resides in Knoxville, Tennessee. Her work is included in various museums, private collections and corporate collections including: The Tennessee State Museum, Evansville Museum of Art, Knoxville Museum of Art, Firstbank of Tennessee, Pinnacle Banks, Omni and Opryland Hotels, Scripps Networks, Knoxville Botanical Gardens, Jewelry Television, TriStar Energy and the corporate offices of McGhee Tyson Airport.
This exhibition is made possible through the generous support of the Efroymson Family Fund, the Indiana Arts Commission and the National Endowment for the Arts. 
The New Harmony Gallery of Contemporary Art is an outreach partner of the University of Southern Indiana. The gallery is located at 506 Main Street in New Harmony, Indiana. Regular hours are 10 a.m. to 5 p.m. Tuesday through Saturday and 12 to 4 p.m. Sunday. For more information, contact Garry Holstein, director, at 812-682-3156 or go to USI.edu/nhgallery.