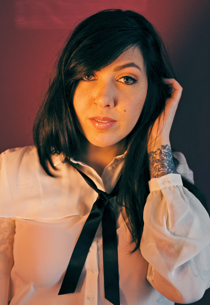 Set to Music a Wildfire, a book of poems by Ruth Awad published by the University of Southern Indiana's Southern Indiana Review Press, has been named the Ohioana Awards 2018 Poetry award winner by the Ohioana Library Association.
Awad, the recipient of the 2016 Michael Waters Poetry Prize, has a Master of Fine Arts degree in poetry from Southern Illinois University and is the recipient of an Ohio Arts Council Individual Excellence Award. "Ohio is the first place that felt like home to me, and I'm filled with gratitude for this recognition from the Ohioana Library Association," said Awad. "This book would not exist without the support from my family and community, and I'm especially grateful for Ron Mitchell, Michael Waters and Marcus Wicker for giving this collection a home of its own."
Awad's work has also appeared in The New Republic, The Missouri Review, The Adroit Journal, Sixth Finch, Diode, Rattle, Vinyl Poetry, Drunken Boat, CALYX and in the anthologies The Hundred Years' War: Modern War Poems (Bloodaxe Books, 2014), New Poetry from the Midwest 2014 (New American Press, 2015), and Poets on Growth (Math Paper Press, 2015). She won the 2012 and 2013 Dorothy Sargent Rosenberg Poetry Prize and the 2011 Copper Nickel Poetry Contest, and she was a finalist for the 2013 Ruth Lilly Poetry Fellowship.
The Ohioana Library Association was founded in 1929 by Ohio First Lady Martha Kinney Cooper to collect, preserve and promote the works of Ohio authors, artists and musicians. More information is available at www.ohioana.org.
Ron Mitchell, instructor in English, is the editor for Southern Indiana Review.