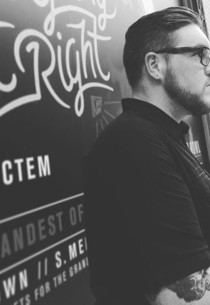 He's the man behind the machines, but Cole Collier, technology supervisor in the Campus Store, is anything but one dimensional. He strives to achieve a perfect balance in life incorporating creative endeavors and a good work/life balance. Let's find out more about Cole.
What's your favorite task to do at work?
My favorite task to do at work is definitely to help students troubleshoot issues with their personal machines. You learn to recognize that look in a student's eye, that terrified "I've lost all my work" look.
When we have an opportunity to save some data that they thought was gone, or to fix an existing machine and save a student a lot of money, to see that gleeful elation, that's definitely the most rewarding part of the job.
What is one of the best things about working at USI?
As an employee of the University, being able to take two classes at no cost for me as an individual, is a huge benefit. A lot of people already have degrees and think "I'm not going to take anymore classes." I never would have imagined that I got the rewards that I'm reaping from my ceramics class. I just can't encourage people enough to step outside their comfort zone and take an art class, a history class, a foreign language class, or a creative writing class. It's one of the best benefits we have here as an employee.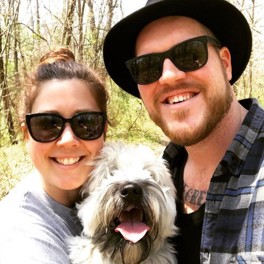 If you only had one project to work on for the entire year, what would you do?
If it was work related, I'd love to take a year and dedicate myself to developing an iPad one-to-one program here at USI. With the growth of inclusive access, where when a student registers for a class they automatically get a digital content package. They would get an access code and be able to instantly access everything for that class for the upcoming semester. I'd love to develop a program here at USI to pre-load iPads or tablets with all of their course materials. There's a lot of information out there about student success metrics, and the benefit of having early access to these materials. It's also so much cheaper with these inclusive access programs.
If I had a year for a non-work project it's my wife's business Sunshine Juice Company. I would love to spend a year building out an awesome old school retro van as a food truck for my wife's cold pressed juice and smoothie business, Sunshine Juice Company.  
How do you use the information that you learned in your favorite class today?
Honestly, my favorite class I've taken thus far, was a kiln building and design course with Al Holen in ceramics. It helps me in my day-to-day interactions with students, customers, and the USI community because it helps keep me balanced. Ceramics is about as primal as art gets. I mean, you're making clay and sticking it in fire. It's about as removed from technology as you can get. It grounds me a bit, and helps me remember that I don't need to be enraptured in my device all the time. I'm able to troubleshoot a lot better when my mind is clear and knowing I'm taking care of that creative side as well.
What job would you be terrible at?
I would probably be a terrible accountant. I can do the inventory management side of things, but to just crunch numbers and calculate spreadsheets and databases all day…nobody wants me doing that.
What was your favorite toy as a kid?
Transformers, hands down. (Cole has a transformers tattoo on his right bicep.)
They say that everyone has a book in them, what would yours be?
It would be a book about balance and self-care, and the pursuit of those things. Not that I'm by any means exceptional at either one, but I think as I get older I learn how important it is to me to make sure I'm practicing self-care. To have balance, not just with at work and home life, but with physical and creative activities; and taking care of myself emotionally and spiritually. I can't really be the best person if I'm letting those things get out of sync. It would probably be a story about the positive things I've found when I found the balance and the bad times when I wasn't paying attention and the struggle.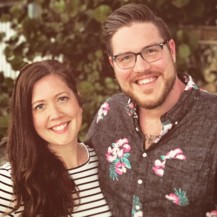 If you owned a restaurant, what kind of food would you serve?
I feel like out of marital obligation, it would be a health food truck. But if it were me personally, it would probably be some time of crazy rotating menu. I have a woodfire pizza oven at home, and I make from scratch Neapolitan pizza. So I would do woodfire pizza one weekend, sushi the next weekend, and cold-pressed juice the next. My wife and I actually just moved into a new house with the most beautiful kitchen, and cooking is therapeutic for me.
What's your favorite family recipe?
My mamaw's banana pudding is five star. I don't know what makes it special, if there's a special ingredient, but it's the best dang banana pudding in the world.
If you could go to any fictional place, where would you go?
Pawnee, Indiana.