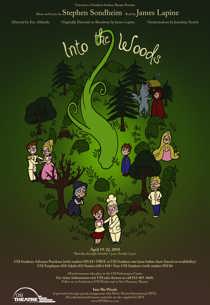 University of Southern Indiana Theatre will finish its 2017-2018 season with the Tony Award-winning musical Into the Woods, based on the book by James Lapine. Music and lyrics are by Stephen Sondheim.  Into the Woods was originally directed on Broadway by James Lapine with orchestrations by Jonathan Tunick.  The original Broadway production was produced by Heidei Landesman, Rocco Landesman, Rick Steiner, M. Anthony Fisher, Frederick H. Mayerson, and Jujamcyn Theaters.  Into the Woods was originally produced by the Old Globe Theater, San Diego, CA. The production runs April 19-22 in the USI Performance Center located in UC east on USI's campus.
Directed by Eric Altheide, Into the Woods reimages the fairy tale characters popularized by the works of the Brothers Grimm in a much darker light. Brought together, among others, are Cinderella, Jack, the Baker, Little Red Riding Hood, and Rapunzel, who wish to change their lives.  In the end, everyone receives their wishes, but consequences of choosing new paths in life bring heartbreaking results.
Altheide will be joined by a design team including USI faculty member Paul Weimer as scenic designer; USI staff member Kevin Gray as sound designer; USI staff member Maya Fein as lighting designer; USI staff member Andy Hammond as technical designer; USI staff member Shan Jensen as costume designer; USI adjunct faculty member Matthew Moore as choreographer; Patrick Ritsch as music director; and USI student Robin Lusby as production stage manager.
The cast of Into the Woods includes USI students Otto Mullins, Jacey Stewart, Jason Honesto, Paige Murray, Hadin Hart, Maggie Browne, Jesmelia Williams, Hannah Jones, Alicia Allen, Cole Henrich, Gaby Rivera, Ashleigh Dulik, Morgan Book, Allen Karch, Zoie Hunter, Allen Harbold, Noah Theriac, Talia Crist, Lauren Grady, Aaron Nulton, and Kyle Burgess.
Into the Woods is presented through special arrangement with Music Theatre International (MTI).  All authorized performance materials are also supplied by MTI. For more information about the performance authorization, visit www.MTIshows.com.
Tickets are $2 for USI students, $12 for USI employees, $4 for non-USI students (student ID required), $13 seniors (60+), and $15 for adults. Shows start at 7 p.m. Thursday through Saturday and 2 p.m. for the Sunday matinee. To purchase tickets or for more information visit USI.edu/Theatre or call the box office at 812-465-1668. Follow us on Facebook at USITheatre and NewHarmonyTheatre, Twitter @TheatreUSI, and Instagram @USI_theatre for updates and photos.
Please join us this summer for productions by local professional theatre, New Harmony Theatre!  This summer's season will be Born Yesterday by Garson Kanin from June 22, 2018 - July 1, 2018; Nunsense with book, music, and lyrics by Dan Goggin from July 13, 2018 - July 22, 2018; and Talley's Folly by Lanford Wilson July 27, 2018 - August 5, 2018.  Tickets are on sale now and can be purchased online at USI.edu/nh-theatre/tickets/ or by phone at 812-682-3115.