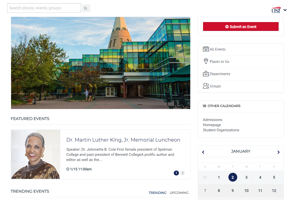 Web Services has launched a new, easy to use, campus calendar system powered by Localist. In the coming days, you will see the old calendar phased out and replaced with the new calendar.
With the new calendar... 
Anyone with USI login can submit events 
You can edit the events you submitted if changes come up
More interaction with the calendar with "I'm going" buttons. 
Event reminder emails 
Newsletter functionality 
More widget/feed of event flexibility 
However, the new calendar is NOT connected to the USI Special Events and Scheduling Services system like the old calendar. Therefore, events are not automatically pulled onto the calendar. We will rely on YOU, the event organizer, or other support in your area to add events to the calendar. You may want to discuss with your department/college to determine the best way to get your department or program's events on the calendar. (Learn more about this at the workshop mentioned below).
The calendar is only as good as the events on it and we need the campus community's help to keep it up to date! You've put a lot of planning into your event, now let's make sure it gets promoted successfully. 
Please note, you must reserve and confirm your space with Special Events and Scheduling Services FIRST, before submitting events to the calendar. 
CALENDAR WORKSHOP
Web Services is offering three opportunities to attend a Calendar Workshop that will show an overview of the new calendar's functionality and a demonstration on how to submit events. Workshops are scheduled

2 - 3 p.m. Wednesday, January 3
9 - 10 a.m. Thursday, January 4
2 - 3 p.m. Friday, January 26
10 - 11 a.m. Friday, February 2


Send an RSVP if you'd like to attend one of these workshops.