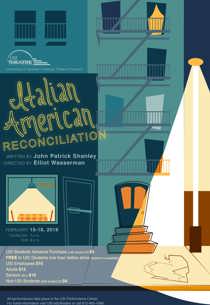 University of Southern Indiana Theatre will continue its 2017-2018 season with the play Italian American Reconciliation, written by John Patrick Shanley. The production runs February 15-18 in the USI Performance Center located in University Center East on USI's campus.
Directed by Elliot Wasserman, Italian American Reconciliation tells the story of Huey Bonfigliano as he attempts to reconcile with his shrewish ex-wife, Janice.  His friend Aldo Scalicki tries to talk him out of the endeavor since Huey has a wonderful girlfriend.  This romantic comedy does not show the beauty of love but instead shows how blindly – and sometimes stupidly – we pursue it.
Wasserman will be joined by a design team including USI faculty member Paul Weimer as scenic designer; USI staff member Kevin Gray as sound designer; USI staff member Maya Fein as lighting designer; USI staff member Andy Hammond as technical designer; and USI students Caitlin Pohland as costume designer and Robin Lusby as production stage manager.
The cast of Italian American Reconciliation includes USI students Brittni Garcia, Gela Ackerman, Tamarea Kramer, Parker Hart, and Nathaniel Robles.
Tickets are $2 for USI students, $10 for USI employees, $4 for non-USI students (student ID required), $10 seniors (60+), and $12 for adults. Shows start at 7 p.m. Thursday through Saturday and 2 p.m. for the Sunday matinee. To purchase tickets or for more information visit USI.edu/Theatre or call the box office at 812-465-1668. Follow us on Facebook at USITheatre and NewHarmonyTheatre, Twitter @TheatreUSI, and Instagram @USI_theatre for updates and photos.
USI Theatre's final show for the 2017-2018 will be the beloved musical Into the Woods with book by James Lapine and music and lyrics by Stephen Sondheim.  The musical is directed by Eric Altheide and will run from April 19-22, 2018.
Please join us this summer for productions by local professional theatre, New Harmony Theatre!  This summer's season will be Born Yesterday by Garson Kanin from June 22, 2018 - July 1, 2018; Nunsense with book, music, and lyrics by Dan Goggin from July 13, 2018 - July 22, 2018; and Talley's Folly by Lanford Wilson July 27, 2018 - August 5, 2018.  Tickets are on sale now and can be purchased online at USI.edu/nh-theatre/tickets/ or by phone at 812-682-3115.