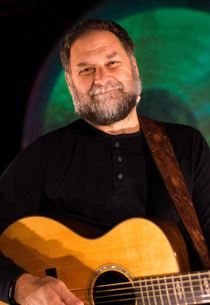 The University of Southern Indiana will host Dr. Bill Thomas' ChangingAging Tour on Monday, November 6 at the USI Performance Center. The event will include two performances: "Disrupt Dementia" from 2:30 to 4 p.m., and "Life's Most Dangerous Game" from 7 to 8:30 p.m.
Our culture tells us that aging will change us against our will, and for the worse. Dr. Bill Thomas, a graduate of Harvard Medical School and an international authority on geriatric medicine and eldercare, argues that this is false. Blending myth and science, live music and visuals, the ChangingAging Tour is barnstorming the country in a rock and roll tour bus to bring communities a new and highly disruptive understanding of aging.
Drawing on ancient wisdom and scientific breakthroughs, the ChangingAging Tour challenges audience members to reject ageist stereotypes and embrace the moments of life that offer the greatest risk, reward and possibility.
Thomas was recently on the USI campus as a keynote speaker for the University's Mid-America Institute on Aging and Wellness conference. Dr. Ann White, dean of USI's College of Nursing and Health Professions, said Thomas was particularly taken by the culture of the University and wanted to find a way to bring the message of the ChangingAging Tour to the campus and the community.
"USI is honored to host Dr. Bill Thomas and his tour group," said White. "No matter what your age, these performances will inspire, energize and connect the generations as we look at aging across the lifespan." 
The Tour includes two non-fiction theater performances as well as an immersive lobby experience between shows. In the afternoon, Disrupt Dementia –– featuring music and stories from Samite, Nate Silas Richardson and co-hosts Dr. Jennifer Carson and Kyrié Carpenter –– challenges common misconceptions and stereotypes of dementia. The evening performance, Dr. Thomas' signature show, Aging: Life's Most Dangerous Game with musician Nate Silas Richardson and Namarah McCall, explores the continuum of human aging as a rich process of growth.
"Aging can be reimagined as a vivid and enlivening process that presents us with extraordinary risks, and rewards," said Thomas. "So, how are we supposed to play this most dangerous of all games? What do winning and losing look like?"
Through the performances, attendees will explore:
The difference between truth and illusion when it comes to aging
Effective insights for better health and well-being gained from the wisdom of elders
Exciting possibilities for every stage of life
Illuminating insights on what elders — even those living with dementia and Alzheimer's disease — can teach us about creating kind and inclusive communities
The important role we all play as elders or elders-in-training 
In addition to the two performances and lobby experience, attendees will have access to food options available on campus between the shows.
The performances are made possible by AARP Indiana, the University of Southern Indiana and the USI Foundation. Tickets can be purchased at https://changingaging.org/event/evansville-in/. For more information, contact Katie Ehlman, director of the USI Center for Healthy Aging and Wellness, at 812-228-5123 or mehlman@usi.edu.
About Dr. Bill Thomas
Named by The Wall Street Journal as one of the top 10 Americans shaping aging, Thomas is known world-wide for transforming long term care through The Eden Alternative and The Green House model, radical alternatives to institutional care. Thomas designed the nation's first Senior ER, now the standard for hospital emergency rooms nationwide. He is currently prototyping a modular compact smart-house designed to maximize independence and well-being through the application of high touch tech and a minimalist ethos.