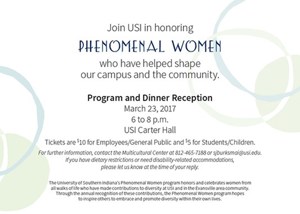 Ten women will be honored at the 2017 Phenomenal Women of USI and Community Recognition Ceremony, sponsored by the University of Southern Indiana's Multicultural Center, Old National Bank and the American Association of University Women. The program and reception dinner will be held from 6 to 8 p.m. Thursday, March 23, in Carter Hall in the University Center West. The event is open to the general public and tickets may be purchased online.
Phenomenal Women recognizes 10 women in seven categories: USI undergraduate student, USI graduate student, USI alumni, USI faculty, USI administrative staff, USI support staff and community-at-large. 
Held during Women's History Month, Phenomenal Women awards, honors and celebrates women from all walks of life who have made contributions to diversity in the USI and Evansville communities. Through the annual recognition of these contributions, the Phenomenal Women program hopes to inspire others to embrace and promote diversity within their own lives.
2017 Phenomenal Women of USI

Lauren Baker (undergraduate student): Baker, from Jeffersonville, Indiana, is majoring in psychology. She is the president of Alpha Kappa Alpha Sorority, Inc., vice president of Black Student Union, a member of President's Council of IFC/Panhellenic and contributes to the group by providing them insight about National Panhellenic Council. At the 2016 Platform Party for Convocation, she was chosen to represent student leaders to the freshman, and to be the interviewer for the new Multicultural Scholarships at the Multicultural Center, where she serves as a volunteer. She is on the Dean's List for fall 2016, and has been recognized as Fraternity and Sorority Academic Scholar for fall 2016, with a GPA of 3.75. Through her service as a student leader, Baker has grown and earned leadership positions. She also is recognized for her professionalism, positive attitude and great potential.

Shianne Bowlin (undergraduate student): Bowlin, from Princeton, Indiana, is majoring in criminal justice, psychology and Spanish. She works at Southwestern Behavioral Healthcare, and teaches patients effective coping and independent living skills. She leads two social science research projects regarding important social issues such as the death penalty. She is currently the recruitment chair, and a mentor in the USI Honors Council. She is the Scholarship Chairwoman for Gamma Phi Beta, assistant vice president of research and development for the Student Government Association, a USI Best Buddy, a Welcome Week Leader, a USI Camp Eagle Counselor, a member of Psi Chi, and a member of the Pre-Law, Psychology, and Criminal Justice clubs.

Carissa Prince (graduate student): Prince, from Evansville, is pursuing her master's degree in social work. She helps organize events such as the Sexual Assault Awareness Week, and has worked to increase awareness of the Stop Sexual Assault website and resources. She created #Mustache4Consent and the Sexual Assault Awareness Week video which, in less than 18 hours, had 2.4 thousand views and a reach of 4,188. She also participates in the social work program.
Mary Lyn Stoll (faculty): Dr. Mary Lyn Stoll is associate professor of philosophy at USI, where she has been teaching since 2005. She is the recipient of the university-wide teaching award at USI, the Cooper Award. She also teaches upper-level courses that bring diversity, such as "Sexual Ethics," "Environmental Ethics," and "Globalization and Moral Obligation," and "Gender and Philosophy." For nine years, Stoll has been organizing and directing the USI Philosophy Club's benefit fundraiser production of the Vagina Monologues, which aims to stop violence against women and to raise money to benefit local organizations working with women and girls, such as Willow Tree of Posey County. She also contributed by serving on a panel at USI discussing the sexualization of women in media. She is a member of the local nonprofit organization, Urban Seeds, including giving talks on topics such as sustainability. She is a member of the Evansville United Unitarian Church, where she gave a presentation on diet and ethics. She currently works with the Sierra Club's "Beyond Coal Campaign."
Christine Hoehn (administrative staff): Hoehn, director of Religious Life, is recognized for her outstanding service, leadership roles and impact on the community. She served as a probation officer for Posey County, before directing and managing all aspects of campus ministry for the entire campus of the University of Southern Indiana, and working with Catholic campus ministers from the University of Evansville. She is an adviser for Habitat for Humanity, serves on campus committees, including the Sexual Assault Prevention Committee, Counseling Center Advisory Committee, USI Strategic Planning subcommittee, and volunteers with the United Way. Hoehn started the Spiritual Diversity Project, which aims for students to better understand other diversities, while strengthening relationships and fostering respect.
Amanda Curley (support staff): Curley, administrative associate in the Dean of Students Office, is recognized for her service and for her potential. She, along with other staff, engages in discussions with students about current issues. The aim of these discussions is the exchange of thoughts, ideas and perspectives in a respectful way. She has become a role model in this aspect in that the students are able to have an open discussion, and the opportunity to start and lead conversations about topics they want to discuss.
Glenna Bower (alumna): Bower is a USI professor of kinesiology and sport, chair of the Kinesiology and Sport Department, and associate dean of USI's Pott College of Science, Engineering, and Education. She is a role model and helps woman and girls, through sport, physical activity and recreation, to better their overall well-being. She has published three books, more than 40 articles, and has given more than 60 presentations. She is the recipient of grants totaling more than 1 million dollars. She works with local agencies and schools on events, and sponsors events such as the Evansville Greenway Project, and Global Youth SMART Olympics. She is the recipient of the Mable Lee Award, the National Association for Girls and Women in Sports Presidential Award, and the National Association for Girls and Women in Sports Pathfinder Award.

2017 Phenomenal Women of the Community

Stephanie Terry: Terry is the executive director of the Koch Family Children's Museum of Evansville, a Vanderburgh County Council member, president of the Evansville Alumnae Chapter of Delta Sigma Theta Sorority, and a member of the Evansville Celebration of Diversity Lecture Series Board of Directors. She also is elected to the Association of Children's Museum Board of Directors, and in 2005, she was named Soror of the year for her sorority. Terry also helped to forge a partnership between the YMCA-Diamonds program and the sorority's mentoring program, Delta GEMS, where she led the organization's successful events and programs, such as voter registration geared towards women, health initiatives, and social action topics, as a volunteer.

Shanese Dozier: Dozier is a co-pastor of the Rock Global Outreach Ministries, working with ministries including the USI Campus Ministry Kingdom Citizens and Chi Alpha ministries, and serves as a pastor in an Evansville area church. She has also served as a pastor for Grace House Teen Challenge. She is a counselor at her church "The Rock" in the community working with trauma at all age levels, and works with couples, serving as a marriage counselor in the community. She is the Founder of Daughters of Destiny women's ministry.
Veltri Taylor: Rev. Taylor is the Pastor at First Ebenezer Baptist Church in Evansville, and the Chaplin of Women's Hospital for DHSI. She also teaches psychology and ethics at Ivy Tech Community College. Rev. Taylor implemented the programmatic strategy for Harvest Time Inner City Ministries in which the aim is to feed the hungry. She has a master's degree in clinical psychology from the University of Evansville, and has worked with people with special needs for more than 30 years. She is a member of the National Sorority of Delta Sigma Theta, Inc. and the Honor Society of Psy Chi National Honor Society in 1981.