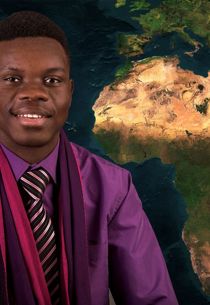 With his country on the forefront of war, Joel Tshite and his family escaped the Democratic Republic of Congo (DRC) to seek refuge in Zimbabwe. After a triumphant journey to safety, he was given the opportunity to embark on another journey: attend a university in the United States. 
"What motivated me most was knowing that education was my way out," said Joel, now a freshman at USI studying electrical engineering through the University's Global Ambassador Scholarship.
In 2001, when Joel was only 6 years old, he witnessed the horrors and tragedy of war when a group of rebels, searching for his missing father, killed his three older brothers. With their father still missing, his mother and seven siblings left everything behind to seek safety. After convincing a truck driver to transport them across the border to a safer territory, Joel and his family found refuge through the United Nations High Commission for Refugees (UNHCR) in Zimbabwe's Tongogara refugee camp. 
Having yet to see their father, the family remained hopeful that he would one day come back into their lives. It was 2004 when that day finally came – Joel and his brothers came home from school and his father was sitting at the kitchen table. "I thought it was a dream," he remembered. After his father fled to Zimbabwe, someone in the refugee camp mentioned that he resembled a family who had been living within the community – it turned out it was his family. With their father back in their lives, they began to pick up the pieces and move on with their lives.
In 2003, at the age of 8, Joel started school at Tongogara Primary School, in the camp. With school being his only escape from the aftermath of war, he immersed himself in his studies. Joel describes the school as the best place to be in the camp, as it was a place where he and his friends didn't have to think about poverty, or their parents, or long ago tragedies; a place where they spent their time talking, breathing and living their imagination. He became the first student in the refugee camp to pass the national exam, which led him to win a UNHCR scholarship that allowed him to complete his high school education at Mount Selinda High School. He became an inspiration to and an advocate for children in the camp and, because of him, students began to believe that furthering their education was possible. He engaged students on the importance of education. "The kids would say 'I want to be like you' but they shouldn't aspire to be like me, I want them to work hard and be the best version of themselves," he said. He also educated peers on HIV/AIDS, environmental protection, dangers of premature and forced marriages, among other issues.
While at Mount Selinda High School, he was admitted into the United States Achiever's Program (USAP), which would lead him on his journey to the University of Southern Indiana. USAP a very selective program, provides the best and brightest students with the opportunity to broaden their horizons, by allowing them access to higher education. Participants are selected for exemplifying academic excellence, leadership potential, ethos of giving to community and economic disadvantage. USAP works closely with students through a year-long program of meetings and seminars designed to empower and assist them through the college application and orientation process. It was with the help of the USAP, that Joel became one of 27 students from Zimbabwe to receive a full academic scholarship, allowing him to study electrical engineering at USI.
 "Electrical engineering is a passion of mine because the refugee camps have no electricity," he said. The first time he realized the possibilities electricity offers to communities, he was immediately interested in learning more about it.
Having interned with the U.S. Embassy in Harare, Zimbabwe, before he left for Evansville, Indiana, Joel was able to familiarize himself with the American culture and English language. The embassy offered him the internship as an opportunity to prepare and educate him on any cultural differences that he will encounter during his transition to life in the United States. He has quickly immersed himself into the USI community, getting involved in Conversation Club, Student Christian Fellowship, Physics Club and playing intermural soccer in his free time. The transition was made easier with help from USI students and faculty, "It was amazing how welcoming people were and how great they treat international students," he said. 
"Today I can plan for something; I can plan for tomorrow and make decisions. The future looks brighter and I am really blessed to be here because it's all by God's grace," said Joel.