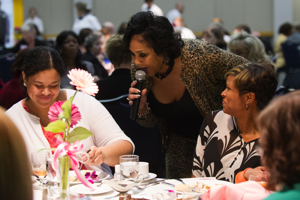 The University of Southern Indiana will host a special 50th anniversary celebration of its annual Phenomenal Women program at 6 p.m. Thursday, March 19, in Carter Hall in University Center West.
The event is open to the public and will include a program, dinner and reception.
Phenomenal Women, held during Women's History Month at USI, honors and celebrates women from all walks of life who have made contributions to diversity in the USI and Evansville communities. Through the annual recognition of these contributions, the Phenomenal Women program hopes to inspire others to embrace and promote diversity within their own lives.
This year, USI's 50th Anniversary year, the University is recognizing 50 Phenomenal Women who have helped shape our campus and the community. USI President Linda L. M. Bennett, one of the 50 honorees, will be the speaker for the event.
Honorees were selected based on several criteria including:
Positive impact on the University
Profound impact on the lives of those who make up the University community
Champions of diversity on the USI campus
Sponsors for this year's event are the USI Multicultural Center, Old National Bank, Vectren and the Evansville Branch of the American Association of University Women.
The event is open to the public. Tickets cost $15 and can be purchased at the Multicultural Center on campus or by contacting the Multicultural Center at 812-465-7188 or kkmcclella@usi.edu. The deadline for purchasing tickets is March 13.
More information about the Phenomenal Women program is available online at usi.edu/phenomenalwomen, or by contacting Pamela Hopson at 812-465-7188 or pfhopson@usi.edu.
The 50 Phenomenal Women are:
A gallery of images and information about each honoree is available online at http://usiphotos.zenfolio.com/p250870223. Click on the image for a description of each Phenomenal Woman.
 1965-1974                           
Marjorie Labhart                             
Mary Nurrenbern*        
Betty Rice                                           
Jane Blaffer Owen*                       
Kathy Funke                                      
Doris Eicher*                     
Connie Romain '74                          
1975-1984                           
Billie Heckel '76               
Ruth Waller*                                     
Mary Lue Russler                            
Josephine Elliott*                           
Cindy Brinker                                    
Vaneta Becker '94                           
Bettie Engelbrecht                         
Aline Nunn Renner*                      
Rebecca Nunn Couch*                 
Cynderella Miller*                          
Marlene Shaw                                  
Judy Clabes                                       
1985-1994                           
Carole Rust '77 '97                           
Sherrianne Standley                      
Suzanne Nicholson*                      
Wanda Hibbitts                                
Nadine Coudret                               
Susan Smith Wolfe                                      
LeAnn Freeland '98 M'00             
Sherry Darrell                                   
Trudy Mitchell                                  
1995-2004                           
Betty Hart                                          
Nancy Johnson '83 M'95               
Chance Dugan                                  
Margaret Henderson Blair                                           
Jennie Hiam                                      
Harolyn Torain '71                           
Tracy Bee                                           
Dallas Bower Surhreinrich*         
Heidi Gregori-Gahan                     
Inez Pumphrey                                                
Katie Waters                                     
Carolyn Georgette*                       
Linda J. Williams '80                        
 2005-2014                           
Mattie Miller                                     
Sue Ellspermann                             
Christy Baker                                    
Ruth Kleymeyer*                            
Eileen Weber '98                             
Linda L. M. Bennett                        
Linda Hoops                                      
Mayola Rowser M'99                     
Marie Bussing                                   
*Posthumous award.