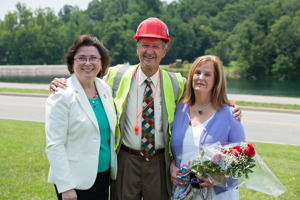 More photos from the groundbreaking and artist renderings of the Griffin Center.
The University of Southern Indiana broke ground Monday, July 21, 2014, on a new $5.75 million building that will meet the need for more meeting and conference space on campus. The naming of the 12,700 square-foot Griffin Center was announced to honor the Robert E. Griffin family. Their leadership gift of $5 million to Campaign USI: Elevating Excellence made the building possible. Funding of the center is one of several goals of the $50 million campaign. An additional $750,000 from the University's Parking and Transportation Reserve will be used to build an access road, to be known as Griffin Way, and a parking lot for the facility. Completion of the Griffin Center is expected in late 2015.
Addressing those gathered at the groundbreaking, USI President Linda L. M. Bennett said, "As we approach our 50th anniversary, it's remarkable that USI has enjoyed such a high level of engagement with this community – this region – since the very beginning. This gift from Bob Griffin and his family is a prime example of that community involvement. Their investment in this University is transformative. Without their leadership gift, this much-needed facility would not be possible."
The Griffin Center will be constructed on the southwest side of campus overlooking Reflection Lake and facing east with views of campus. It will include a 2,400 square-foot meeting room accommodating approximately 150 guests. Other meeting spaces, related breakout areas and food service support facilities also will be included. The center will accommodate events hosting alumni groups, trustee and foundation meetings and community groups. Large floor-to-ceiling windows will accentuate the surrounding wooded beauty of campus. A large canopy will allow for outdoor gatherings.
Bob Griffin, chairman of the board for Escalade Inc. in Evansville, Indiana, and a longtime supporter of USI, has been involved with the University in a variety of ways, including serving as chairman of the USI Foundation Board of Directors and as a member of the Romain College of Business Board of Advisors. He was awarded an honorary degree from USI in 2003. In addition, Bob, his wife Judy and the Griffin family have supported the USI Presidential Scholarship program since its inception in 1987. They endowed the Dr. John and Grace Helfrich Eisterhold Scholarship at USI in honor of Judy Griffin's parents, and led a fund drive to establish the Robert D. and Mary Kay Orr Business Scholarship. Griffin also serves as honorary chair of Campaign USI: Elevating Excellence.
"Bob Griffin has been a leader in Evansville's business and civic community since he came to Evansville," said Ron Romain, a 1973 USI graduate and owner/CEO of United Companies, who is chairing the capital campaign. "He has been engaged at every level at USI for many years. As an alumnus of this institution it gives me great pride to know that Bob considers this one of the best investments of his lifetime."
"The University of Southern Indiana is a good thing for Evansville and the region, and it deserves our support and involvement," Griffin said. "We want this to be a good community—we live here, we have families here. Education is an essential part of our community—it's the best investment we can make. The more brain power we keep here in the community, the more the community will advance with the University."