Past Faculty Colloquia
Each fall and spring semester, USI faculty members from the College of Liberal Arts present individual public lectures featuring their current research.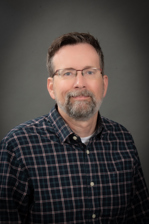 "An Excellent House of Private Entertainment:" The Harmonist Tavern in New Harmony, 1815-1825
Dr. Michael Strezewski
Associate Professor of Anthropology
March 2021 - Video

Taverns were an essential institution in the frontier-era Midwest, providing food, drink, and sleeping quarters for travelers. Very little, however, has been written their operation, due mostly to a lack of primary documents. During the period 1815-1825, the Harmonists operated a tavern on the corner of Main and Tavern streets in New Harmony. Recent transcription and analysis of the Harmonist tavern daybooks has provided a glimpse into how this business operated and the types of alcohol that were popular among its patrons. While beer, hard cider, and wine were served at the tavern, sales of one drink in particular, whiskey, continued to climb through 1820. After this point, however, its sale was abruptly curtailed. Clues from Harmonist history provide a robust explanation for why the Harmonists chose to stop selling whiskey and other hard alcohol in their tavern.
---
A Medieval Mystery: The Old English Alliterative Verse
Dr. David O'Neil
Assistant Professor of English
February 2021 - Video

With the exception of modern free verse, most of the world's poetry has been composed in meter. A poetic meter may require a particular number of syllables per line, particular sequences of light and heavy syllables, particular tonal sequences, or end-line patterns such as rhyme. Traditionally, these rules have determined what counts as poetry, and what doesn't. In the early Middle Ages, all poetry, including well-known poems such as Beowulf, had to be written in a form known as the Old English alliterative meter. As the name suggests, the most obvious quality of the meter was mandatory alliteration in every line.
Here's a three-line example from the first recorded poem in the history of the English language, Cædmon's Hymn:
Nu sculon herigean     heofonrices Weard,
Meotedes meahte     ond his modgeþanc,
weorc Wuldorfæder,      swa he wundra gihwæs…
[translation: "Now we must praise the Guardian of heaven,
the Measurer's might, and the thought of his mind,
the Glory-father's work, as he for every wonder…"]
In addition to the poem's alliteration, there were also apparent patterns of stressed and unstressed syllables. However, the exact nature of these patterns remains controversial. In this talk, Dr. O'Neil will delve into the mystery of the Old English alliterative verse, exploring some of the competing theories from the last 150 years. He also proposes an explanation for the decline and ultimate demise of the alliterative tradition, which was superseded in the late Middle Ages by a class of poetic meters that has dominated English language verse ever since. 
---
Pocahontas and Settler Memory in the Appalachian West and South
Dr. Kristalyn Shefveland
Associate Professor of History

January 2021 - Video

This presentation utilizes the Pocahontas coalfields in West Virginia and the Indian River Farms Company settlement of Vero Beach Florida as case studies of settler memory in two very different but connected Southern spaces that settlers considered frontiers as late as the nineteenth century. Both places constructed fantasies about Native peoples that promulgated enduring tropes that focus primarily on the idea of the Native woman Pocahontas.
---
Improving Students' Ability to Evaluate Arguments: What, How, & Why?
Dr. Sri Dandotkar
Assistant Professor of Psychology

December 2020 - Video

The ability to comprehend, evaluate, and produce arguments ⏤ argumentation ⏤ is an important skill that students need both to succeed in college and to actively participate in a democratic society. This presentation gives a brief account of what this skill entails, why it is important to address, and, more importantly, how to help students improve this skill. Within this context, I will reflect on various factors (Student-related, Text-related, & Context-related) pertinent to improving students' argumentation skills that I have explored in my research, with emphasis on a specific student-related factor (epistemic beliefs) that I have been examining for the past four years.
---
The Perils of Plastics: A Primer for Business Ethics 
Dr. Mary Lyn Stoll
Associate Professor of Philosophy
November 2020 - Video
Thirty-two nations have instituted bans on single use plastic bags, yet, at current rates, the world's oceans may well have more plastic than fish in them by 2050. Additionally, plastic pollution rates have increased even more in the midst of the pandemic. Present levels of plastics dumping into global ecosystems are clearly unsustainable.
To make matters worse, the global plastics industry is growing at a rapid pace, and so too the pollution that it generates. Half of all plastics ever produced were created in the past 15 years, and production is expected to grow as the oil industry shifts from providing for automobiles to focusing more on plastic. All too often, single use plastic is used in rich nations and then dumped as refuse in poor ones.
Stoll will examine how companies can take more proactive and systematic steps towards minimizing their role in the creation of plastic pollution. By taking comprehensive measures to address plastic as an environmental harm negatively impacting a wide range of stakeholders who could not in principle consent to the harms accrued, companies can begin to remedy and reform morally unjustified practices. As with any attempt to become more morally accountable in business practice, special care must be taken to avoid greenwash as well as measures that may be morally better in one way, but substantially morally worse in another.
---
Assessing Substance Abuse and Mental Health Needs in a Midwest County Jail
Dr. Laura Lutgen-Nieves
Assistant Professor of Criminal Justice
October 2 - Video
The presentation will center on Lutgen-Nieves's work with the Vanderburgh County Sheriff's Office to assess the substance abuse and mental health treatment needs at the Vanderburgh County Jail (VCJ) in late fall 2019. Over the course of two months, Lutgen-Nieves and colleagues interviewed and administered surveys to more than 200 people held at VCJ. From their research they found a substantial and elevated need in the realms of both substance abuse and mental health. The presentation will cover the basis for this study, the study's methodology and findings, as well as policy implications, current ongoing projects with the jail and next steps.
---
Adapting Historical Time and Place in Young Adult Novels

Dr. Amy L. Montz
Associate Professor of English

September 4 - Video
Jennifer Donnelly's 2015 novel These Shallow Graves and Katherine Howe's 2015 novel The Appearance of Annie Van Sinderen are both set in nineteenth-century New York (with Howe's book spanning the 1830s and the 2010s) and both end with Author's Notes or Acknowledgments that give credit to the Museums and Institutions of New York City for keeping the past alive.
Both authors, it seems, did excellent research into their subject matter, bringing the nineteenth century alive on the page. By refreshing this classic space, authors like Donnelly and Howe call attention to the significance of American history, and encourage their teen audiences to reclaim those spaces for cultural preservation.