by Courtney Bourne, President of the USI AMA
The USI American Marketing Association (AMA), formerly known as USI Marketing Club, recently traveled to Chicago for the International Collegiate Conference through the AMA. The conference was a four-day event that hosted more than 40 collegiate chapters across the U.S. and the world, from New York, California, Alabama, Puerto Rico, Nevada, Pennsylvania, Wisconsin and the list goes on. These ambitious student marketers competed in competitions such as SABRE Business Simulation, Marketplace Marketing Simulation and the Perfect Pitch competition. Aside from the competitions, the conference invited guest speakers from various industries to speak about numerous topics to prepare students for their professional career. 
L to R: Dr. Sabinah Wanjugu, Assistant Professor of Marketing and Faculty Advisor; Courtney Bourne; Diego Socorro; and Sarah Jones.
The conference was life-changing—as a marketing student, it was awesome to be surrounded by hundreds of other passionate marketers like myself. I feel more challenged as a student to increase my knowledge and skills of business to be well-rounded. We used economics, finance, and marketing in the competitions we competed in. 
Since this was USI's first year as an AMA chapter, we were able to connect with other AMA members and became friends with some great students from Wisconsin Eau Claire University and Indiana University—it was awesome to get to know these individuals outside of a professional setting. We have been working hard since we've been back, and I cannot wait for next year. The students of USI will gain great benefits by joining this chapter!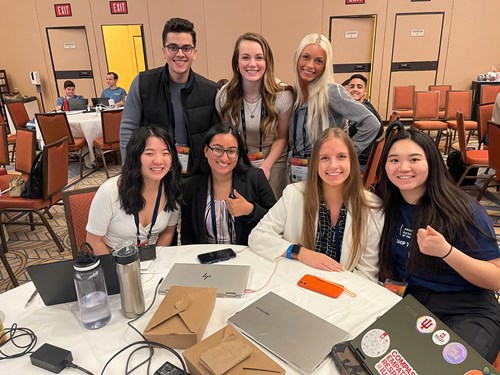 Junior marketing major Diego Socorro is the Vice President of USI AMA, and he had a valuable experience as well. "This conference was an awesome experience overall. We were able to compete in what we love while also meeting other students and faculties. Every day was a non-stop race—there were so many activities, meetings, speakers, sessions, and competitions that demanded our focus and energy. The future looks positive for our chapter., I'm excited for the events, class presentations, and projects that we are organizing now that we are the official AMA chapter at USI."