Two USI accounting majors, David Bradley and Luke Blackburn, are the recipients of awards to attend Indiana University Robert H. McKinney School of Law. "The accounting faculty are proud of both David's and Luke's accomplishments," says Dr. Thomas Noland, Chair of Accounting and Finance, Professor of Accounting. "The combination of an accounting and law degree will serve them well whether they choose to focus on tax issues, securities law or mergers and acquisitions."
"David and Luke have been exceptional students in our accounting program. I enjoyed watching them both grow and develop in the classroom," says Dr. Brett Bueltel, Assistant Professor of Accounting. "They will be great ambassadors for USI as they begin their time in law school." 
David Bradley '22, accounting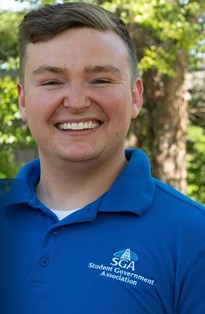 David Bradley, a senior accounting major, has been chosen as a Kennedy Law Scholar, a scholarship awarded by the Indiana University Robert H. McKinney School of Law. He is the first USI student to be awarded the scholarship.
A native of New Haven, Illinois, Bradley chose USI as his undergraduate university because of the people and campus, but also because of its positive learning environment and affordability (Bradley discussed his connection to campus more in his segment of USI's The College Tour episode!). "It was apparent to me that the individuals who are a part of USI's community take pride in the school and the campus," says Bradley. "I just had a good gut feeling about the place."
The Kennedy Law Scholar award is the law school's largest scholarship and was established in 2004 in honor of U.S. Supreme Court Justice Anthony Kennedy, who delivered the keynote address at the dedication to Lawrence W. Inlow Hall in 2001, which houses the McKinney School of Law.
As an accounting major, Bradley says he never considered a career in law. However, an internship with the Indiana House of Representatives helped him see how this career is used in our society and piqued his interest in the field. 
To be considered for this prestigious award, applicants must have a minimum of a 3.65 cumulative undergraduate grade point average and a 162 LSAT score. Recipients are selected by the law school's scholarship committee.
Luke Blackburn '20, accounting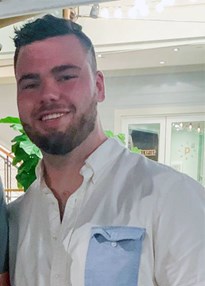 Luke Blackburn is the recipient of the USI Law Scholar Award. Each year two students or alumni are nominated for admission to the McKinney School of Law. Law Scholars receive a minimum of a half tuition scholarship and a paid research assistant position for a professor at IU Law School.
"This award has meant so much to my family and me. As a first generation college graduate, obtaining a scholarship for grad school takes a burden off myself and those around me," he says. "Beyond the financial award, the honor to represent USI at McKinney School of Law is an outstanding opportunity."
Blackburn says taking advantage of the perks outside of the financial award will help him get the most out of his law school experience. "They will help me obtain the professional career that I've always seen myself in. My goal is to come back to the southwestern Indiana area after law school to begin my professional career. This award allows me to stay in Indiana for law school whereas I would've likely gone out of state without it. I would like to thank Dr. Brett Bueltel and Dr. Nick LaRowe for their help in this process. Without them, I'm not sure my path to McKinney would've come to fruition."