Kaelyn Wessel '22, management, is the recipient of the Orr Fellowship, a two-year, full-time paid position with a partner company in Indianapolis. The post-graduate program connects top talent with top jobs and builds the next generation of leaders in the Indianapolis area. Designed for students who want to jumpstart their career, the Orr Fellowship fosters a community of young professionals through access to an expansive network (more than 500 alumni), dynamic work environments and leadership development. Wessel is only the second student from USI to receive the fellowship, which has been in existence for 20 years.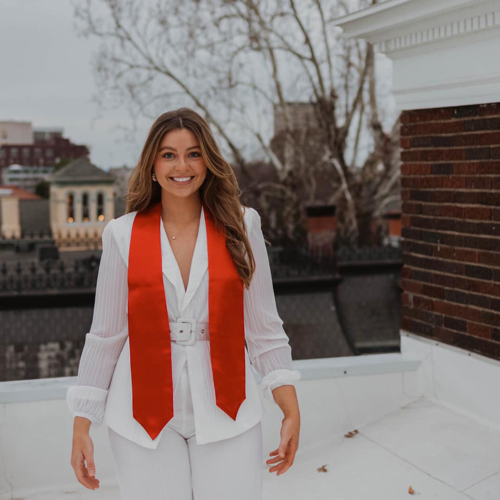 With more than 1,000 applications from Indiana college seniors vying for fewer than 50 open positions in 30 partner companies, the extremely competitive selection process included five rounds of applications and Zoom meetings and interviews with alumni of the Orr Fellowship program. "Once the interviews were in person, it was actually easier because I found that people were very personable and easy to talk to," Wessel says. "I went into it with an open mind, because other schools had a lot of alumni and connections already in the program. I had to really work hard to network and get my name out there."    
The final round was a day-long interviewing event at Lucas Oil Stadium where finalists learned their job offers. Wessel has accepted an offer with NCW, a staffing and recruiting firm in Indianapolis, where she will be part of a team working to fill positions in the engineering industry. Some of the partner companies have a rotational program among the companies for fellowship recipients, but she will move within the departments at NCW. "The company is flexible, and they want you to do what you like," Wessel says. 
She credits her classes in the Romain College of Business with helping her during the process. She says management classes with Dr. Erika Williams, Assistant Professor of Management, developed her entrepreneurial skills. She credits her business communications classes and Ms. Cindi Clayton, Instructor in Business Communication, with developing her business writing and interviewing skills. Being involved on campus in her sorority and as an associate justice in Student Government Association showcased her leadership experience. 
"We, at the Romain College of Business, are extremely proud of Kaelyn's remarkable achievement," says Dr. Sudesh Mujumdar, Dean. "Kaelyn's selection for the prestigious Orr Fellowship is a reflection of her outstanding talents and skills nurtured by a world-class faculty in a co-created and personalized learning environment." 
Wessel says her career goals are wide open right now, but two things are on her radar. Expect to see her at next fall's USI Career and Internship Fair. "I would love to increase the visibility of the Orr Fellowship program at USI," she says. 
Second, with more business experience under her belt, she would consider returning to Evansville, her hometown, and taking over ownership of a local business and expanding it or starting her own company.
Published January 6, 2023