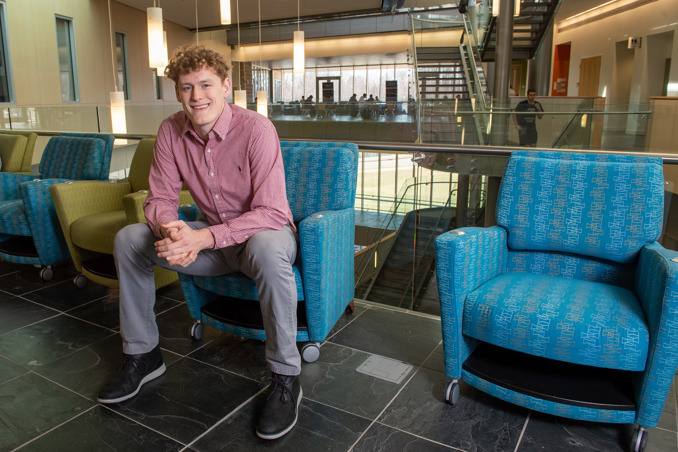 Jacob Polakovich grew up in a family of entrepreneurs.
His late father, Jimmy, owned and operated South Side Jimmy's – a restaurant and bar in his hometown of Grand Rapids, Michigan. His mother, Missie, started up the Southside Flower Market with a couple of her friends. His uncle, Kevin, is a loan officer and co-founder of Treadstone Mortgage.
Polakovich watched them get to do what they loved for a profession. It made him want to set the same path for his future career. It's why he decided to pursue a management degree in the Romain College of Business at USI.
"A family business is something I could see myself working in," Polakovich said. "I like talking to people, I like interacting with people. Having the challenge of a leadership role is something I've always enjoyed."
He's had plenty of practice as one of the leaders on the USI Men's Basketball team. The senior forward is in his second season playing for the Screaming Eagles after transferring from the University of Indianapolis in 2020. With both his play and ability to guide his teammates, Polakovich has become a voice everyone on the team listens to.
Polakovich has been able to turn lessons he's learned on the court into ways to best help himself in the classroom. He's also grateful to have a close connection with his professors and instructors. When it comes to getting ready for the possibility of post-basketball life, he feels the instruction he's received from the Romain College of Business will allow him to embrace any challenge he may face in his career field.
"The professors here do a great job of working with you and preparing you. They don't just teach the subject–they try to find a way to help me learn the best personally, and they do that for every student," Polakovich said. "Coming to a school with classes of this size has helped me stay engaged and really learn. I'm not just passing a test and then forgetting about the subject."
Polakovich's days can be long and tiring. From early morning lifts to two-and-a-half-hour-long practice sessions in the afternoons, sometimes he finds himself ready to crash when he finally gets home for the day. But the work is just beginning.
He's created a healthy balance of what he needs to be successful as a student-athlete. Even on days where his to-do list adds up, he reminds himself how important it is to get classwork finished and maintain a high GPA.
"At the end of the day, I'm a student first. I have the same expectations everyone else does at school," Polakovich said. "I have to make sure I get everything done and set aside time no matter how tired I am. I want to keep those grades up where they're at."
On the court, Polakovich's senior season has been one to remember. He's currently one of the top five rebounders in the country with an average of 12.8 rebounds per game. He's also the only player in Division I basketball to have multiple 20-point, 20-rebound games this season.
Polakovich's rebounding prowess has put his name up there with college basketball stars such as Kentucky's Oscar Tshiebwe and Purdue's Zach Edey. While he says it's "humbling" to see his name amongst the national leaderboards, he doesn't let it phase him. It's where he expects to be.
"When I was young, I would look at that and think those guys were like superheroes. But now I've kind of learned that we put our shoes on the same way, and we play the same game at the end of the day," Polakovich said. "I trust the amount of work I've put in, and I trust what my teammates do and how they push me every day. When you look at that, I think it shows it's no accident I'm up there. It's something I've worked for my entire life."
In their first season of Division I play, the Screaming Eagles have proved to be an immediate threat in the Ohio Valley Conference. They finished the regular season with a winning record at 16-15 and earned a berth in the OVC conference tournament as the 7th seed. There have been impressive wins against teams such as Indiana State and Southern Illinois and strong showings against high-major programs such as Missouri and Notre Dame.
While it's been special to be a part of the first DI Men's Basketball team in University's history, what Polakovich has loved the most is seeing the fan support, especially at every home game this season at the Screaming Eagles Arena. It makes playing the games that much more fun.
"It's going to hold a special place in my heart forever, and I think that's true for everyone here," Polakovich said. "You can feel a different buzz when interacting with everyone at school. Everyone's excited about what we're doing. We have a chance to represent the University in the best way possible, and that's an honor."
When Polakovich first stepped foot on USI's campus in 2020, he only knew a handful of people. He didn't know what to expect from the Evansville and campus communities. But it didn't take long for him to fall in love with where he was. From direct messages to greetings on campus, he was welcomed with open arms.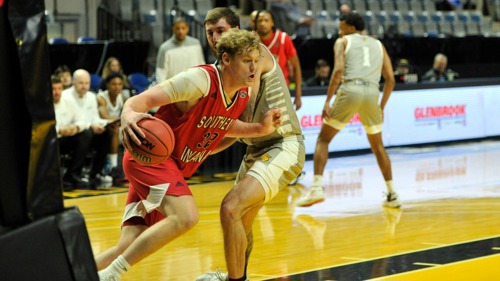 That's what Polakovich will remember most when he's walking across the Commencement stage in a few months. Little moments like those will always make him proud to be a Screaming Eagle.
"I was welcomed into the community with a big hug. The second I got 
here, it felt like the right place," Polakovich said. "That's something that will always bring me back to Evansville no matter what. I'll always be a part of this community."
Until that day comes, Polakovich will continue to build on the solid foundations USI is providing him as he prepares to join that family of entrepreneurs.