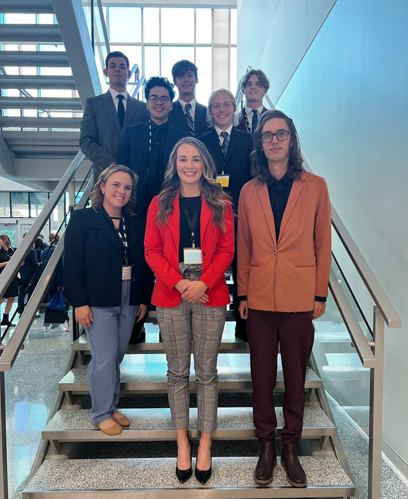 When Courtney Bourne first heard about a marketing club on campus, she knew she had to find a way to get involved. A little over two years later, she's played a major role in helping the organization grow to where it is today.
Bourne, a senior marketing major, is the President of the American Marketing Association chapter at the University of Southern Indiana. What started as simply the USI Marketing Club has blossomed into a local chapter of a national organization continually seeing growth in participants each year.
"For me, it is rewarding to see students get involved and continue to make the chapter what it is today," Bourne said. "It is amazing to see how involved the students are as well, and I can't wait to see what this chapter does in the future."
USI's chapter officially became associated with AMA in fall 2021. It was one of the ultimate goals when first starting the marketing club on campus. AMA is the largest professional association with over 70 professional chapters and 300 collegiate chapters across the country. By being a member of AMA, students can earn professional certifications as well as certificates in digital marketing, content marketing, management and sales.
Students also have the opportunity to participate in nationwide student competitions and the annual AMA conference. USI's first trip to the AMA Conference took place in spring 2022 in Chicago. At the time, the Southern Indiana chapter had just five members.
But that number has skyrocketed to over 20 members just a little under a year later.
"During the summer, the executive board and I sat down and wrote long term goals that we wanted to hit by the end of the second semester. One goal was to have 20 dedicated members – a goal that we thought was unreachable," Bourne said. "But we achieved that goal by students and professors talking about the chapter as well as using social media to reach a larger audience."
In addition to last year's conference in Chicago, AMA students have also attended a regional conference in Whitewater, Wisconsin, and one student - junior marketing major and AMA Vice President Diego Socorro –was one of just 15 students invited to participate in AMA's Diversity Leadership Institute at Indiana University.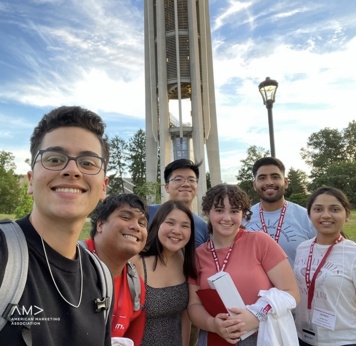 This year, members of USI's AMA chapter will get to travel to New Orleans for the annual conference taking place March 30 through April 1. Students will participate in a variety of competitions including marketing strategy, creating the "perfect pitch" and producing a recruitment video.
A group of students will also get to present a research paper. The paper is on the application of neuroscientific techniques such as eye-tracking to learn about students' emotional response and visual attention when viewing different social media accounts.
"AMA offers plenty of opportunities to network with like-minded students from across the U.S.," Bourne says. "But more importantly, I have developed friendships that will last a lifetime."
This group provides networking opportunities for students of all majors. Members have been in attendance for presentations from major employers such as Amazon, Sherwin-Williams and TikTok at various conferences. Students have also gained experience with public speaking, mock interviews and other professional development skills.
Current members of the USI AMA chapter have also created their own consulting agency called SOAR – Social Optimization Achievable Results. They've worked with Sixth and Zero, a local business that makes handmade soaps and sustainable products, by helping with social media and marketing strategies.
Dr. Sabinah Wanjugu and Dr. Nicolas Jankuhn, both Assistant Professors of Marketing and USI AMA Faculty Advisors, enjoy seeing students take advantage of the opportunities the AMA chapter has to offer for all students–not limited to those in the Romain College of Business.
"My biggest joy has been seeing students thrive through the networking opportunities and professional development opportunities that come from being a member of AMA," Wanjugu says. "Those opportunities are not only beneficial for the students throughout their life in college, but they'll also open doors toward a successful career in business."
"We think students of any major will benefit from participating as marketing touches every aspect of doing business today," Jankuhn says.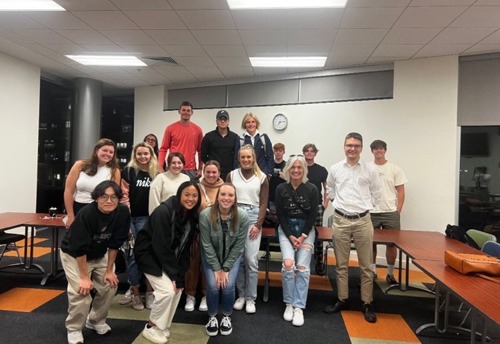 USI's AMA chapter meets at 6 p.m. on Wednesdays in BE3033. For more information, follow the chapter on Instagram. Events and meetings are held throughout the year, and the chapter is always looking for new members.
Those who have been involved have loved the experiences that come with being a member.
"AMA is special because each person contributes to the chapter by having a role–no matter how big the chapter is," Bourne says. "AMA is a chance for students to build their resume as soon as their freshman year and as late their senior year. I highly encourage students to get involved because it has been the highlight of my college career thus far."