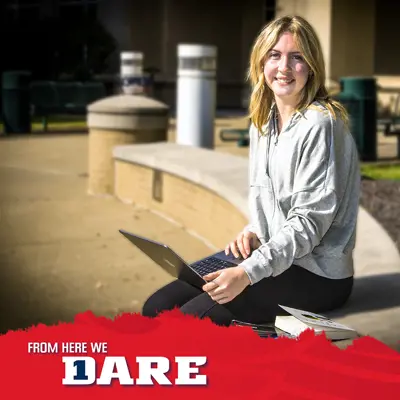 Moore digs up success at USI
Freshman defensive specialist finds home at USI
Newburgh, Indiana, native and Castle High School graduate Keira Moore '26 is taking on a new challenge competing at the Division I level for the University of Southern Indiana Women's Volleyball team, but she's no beginner when it comes to competing at a high level. Her love for the game and dedication in the classroom are paving the way for future successes at USI and beyond.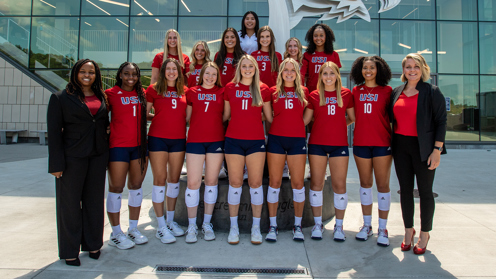 The first dig 
Moore comes from an extremely competitive background. She grew up watching her older brother Brycen, who attends Indiana University, participate in athletics at a competitive level—she knew she wanted to follow in his footsteps.  
She began playing volleyball at an early age, but didn't get into the competitive aspect of the game until sixth grade when she made the decision to pursue volleyball exclusively. Moore loved the team-centered nature of the sport. "I never got tired of it and found myself constantly wanting to be more involved," she says.  
Prior to USI, Moore was named All-American Honorable Mention and Player of the Year. She surpassed over 1,000 career digs, received First Team All-State and was a State Runner Up during her years at Castle.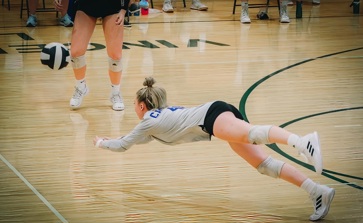 She says she would not be where she is today without the support of family. "My parents sacrificed countless hours to drive me to and from practice and tournaments. Even my grandparents traveled to every game to show their support and cheer me on." 
Stepping on the court at USI  
As someone from a big 4A high school, facing transition to a collegiate level wasn't as scary for Moore as it is for some. The atmosphere of a 4A high school is good preparation for entry into a midsized university and allowed for a smooth transition.  
Moore has had a strong support system from teammates and coaches who have given her a lot of knowledge and guidance to ensure she is well prepared to compete at the USI level, in the classroom and on the court. "My teammates and coaches advised me on which classes to take, as well as walking me through my schedule and guiding me to classes the first week—they offered me advice on anything I had questions on and just made sure to check in regularly," she says.  
Her transition to DI training has been seamless as well. The team trains six days a week with lifting on two of those days. "All of our practices end before 6 p.m., so we have plenty of time to study in the evenings," she says.  
On travel weekends, the team sets aside strict academic hours. "This allows us to focus solely on studying and completing homework."  
Big digs in Division I 
Moore has made an impressive debut at USI, conquering milestones not usually met until the sophomore or junior year. She was the leading defensive specialist with a total match high of 14 digs, helping USI Volleyball secure its first season win on September 30 against the Lindenwood Lions. In the rematch game on October 1, Moore reached a team high 21 digs. She leads the team with a season total of 213 career digs. "Getting the first win felt so amazing—we were all extremely proud of one another and glad our hard work and determination was starting to pay off," she says.  
Being a Division I student-athlete means you are upping the level of competition on the court and in the classroom. "There has been so much excitement being part of the first team to compete at the Division I level—we look forward to the opportunity to show people we can compete well at a high level," she says.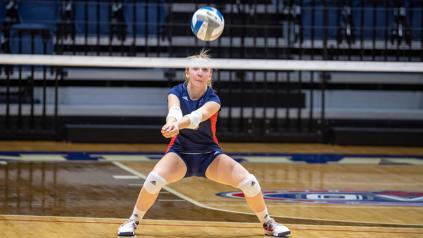 Playing at the high school and club level pushed Moore to a high standard and helped relieve her of any anxiousness at USI. And she's constantly reminding herself this is a transition period for the University and everyone needs time to adjust. 
Time to soar 
After Moore finishes defending the back row for the USI Volleyball team and obtains a degree in psychology while also earning a minor in criminal justice, she would like to utilize all the tools she retains from being a Screaming Eagle and apply them to her dream job as a forensic psychologist or working for the Federal Bureau of Investigation. USI is offering Moore the opportunity to compete, athletically and academically, at the next level where she is surrounded by family and friends, a team and the USI community that have made USI feel like home.  
Five Fast Facts about Keira:  
She enjoys going on long drives and walks. 

 

Her favorite singer is Harry Styles. 

 

Moore's favorite thing to watch is crime documentaries.

 

She won the World Series for softball when she was 12. 

 

Her dad has been on Wheel of Fortune. 

 
How to catch a USI Women's Volleyball game. 
This article was written by University Strategic Communication Graduate Assistant, Shaila Dalrymple.