First year students with similar interests, goals, and academic programs can be placed together in an on-campus housing Theme Living Community. Students who reside in a Theme Living Community enjoy all the same amenities as other residents and benefit from a unique living experience.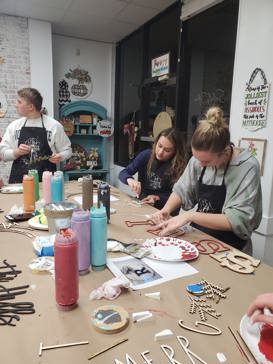 STEM+ TLC: For all students with a major in Pott College studying science, math, engineering, kinesiology and sport, or education, this TLC can be your home. You will participate in a mentor/mentee program with other Pott College students and faculty! You'll have bi-weekly events like cook-outs, trivia night, Thanksgiving dinner with the Dean, and student panels. Your TLC will also include health and wellness events, like learning how to deal with stress, USI's Doggie Dash (volunteer, walk, or run with doggies!), and much more. What else do you want your TLC to do? The sky's the limit, so help us help YOU have a great year! 
TLC Classes:
You will take your UNIV 101 First Year Experience with your TLC-mates. Engineering students may need to take a different section, due to some accreditation requirements, and we'll let you know about that before registration. 
TLC Mentor:
Dr. Rob Carroll is your TLC Mentor! 
You can reach Dr. Rob Carroll directly by email or call: 812-464-1939.
How do I apply? 
Apply for Housing, housing applications are available on December 1 on myUSI.
Click on the red housing icon on the left and follow the instructions.
After you've completed the main housing application, you will see a link to a special TLC application. You must complete the TLC application IN ADDITION to the main housing application. On the TLC application, you can choose the STEM+ TLC.
That's it! :) You'll hear back from us soon! 
For general LLC questions, please email Theme Living Communities. 
If you need more assistance, you can also contact Dr. Sarah E. Stevens, Director of Theme Living Communities.