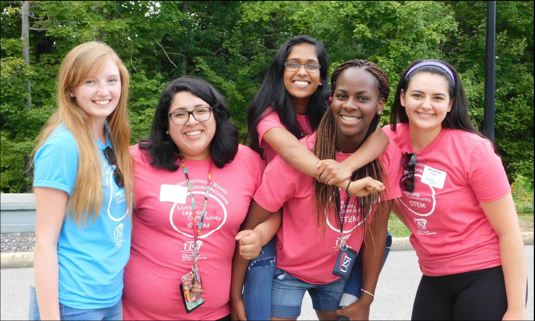 Our Peer Mentoring Program is designed to provide support and guidance to undergraduate students as they transition from high school to college life. Incoming freshmen are paired with sophomores, juniors, and/or seniors from within Pott College.  All mentees are provided the opportunity to meet regularly with their assigned Peer Mentor outside of the UNIV 101 course and participate in a variety of programs and activities throughout their first academic year. The programs and activities are designed to foster peer relationships between the mentors and mentees, to strengthen and sustain students in meeting their educational goals, and to help make the college experience exciting and fulfilling at the University of Southern Indiana.
The primary goal of the Peer Mentoring program is to provide an opportunity for new first-year students to connect with undergraduate members from Pott College of Science, Engineering, and Education to assist with the academic transition from high school to college.
The following are goals of the mentoring program:
1. To provide new students with the information, support, and encouragement they need to be successful within their respected major.
2. To foster an inclusive environment that is rewarding for mentors and mentees where they become active partners in shared learning experiences through programs, services, and relationships.
3. To advance knowledge about campus services.
4. To help establish career and educational goals.
5. To provide consistent, reliable sources of support and inspiration.
Expectations of the Mentor:
Attend Peer Mentor Training
 Assist new students in making a healthy transition to USI
 Contact your mentee periodically throughout the spring semester, acting as a reliable resource and referral agent and providing relevant information.
 Attend all planned activities as scheduled
 Plan actives with mentee
Expectations of the Mentee:
 Seek advice from a mentor
 Communicate progress and concerns with the mentor
 Participate in all activities with a mentor and other mentees
 Set goals and make decisions to achieve these goals
 Utilize campus resources
Our Peer Mentors are:
 Students who have finished two or more semesters
 Have at least a 2.5 GPA
 Knowledgeable about the USI Community
 Personable, flexible, and considerate of the needs of new students
For more info, contact Peer Mentor Advisor Dr. Rob Carroll.