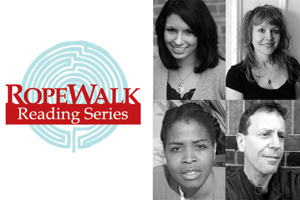 The fall 2013 RopeWalk Visiting Writers Reading Series will include free public readings by authors Kirsten Clodfelter, Christine Sneed, Arisa White, and David Lazar. Each reading will begin at 5 p.m. in Traditions Lounge in University Center East and will be followed by a reception and book signing. 
Kirsten Clodfelter
Thursday, October 24
First runner-up for the 2012 and 2013 RopeWalk Press Editor's Fiction Chapbook Prize, work by Kirsten Clodfelter has appeared in The Iowa Review, Brevity, Narrative Magazine, Hunter Mountain, and more. Winner of a Dan Rudy prize, her work also was awarded an honorable mention from Glimmer Train and second place in Narrative Magazine's 30 Below contest. Her new chapbook, Casualties, will be available later this month from the RopeWalk Press. Clodfelter holds a Master of Fine Arts degree in creative writing from George Mason University. She currently teaches in southern Indiana, is an associate editor of As It Ought to Be, and manages At the Margins, a review series for small-press and underrepresented books that will launch in November. 
Christine Sneed
Tuesday, October 29
Christine Sneed's story collection, Portraits of a Few of the People I've Made Cry, won the 2009 AWP Grace Paley Prize in short fiction, was a finalist for the Los Angeles Times book prize in the first-fiction category, awarded Ploughshares' 2011 John C. Zacharis Prize for a first book, and was the Chicago Writers Association's book of the year in the traditionally published fiction category. Her second book, a novel titled Little Known Facts, was recently named Chicago Magazine's best new book by a local author. Short stories by Sneed have appeared in Best American Short Stories, PEN/O. Henry Prize Stories, Ploughshares, Southern Review, New England Review, Glimmer Train, and other journals. She also was chosen for the Chicago Public Library Foundation's 2013 Twenty-First Century Award, honoring significant recent achievement by a Chicago-area writer. Sneed teaches in the graduate writing program at Northwestern University. 
Arisa White
Thursday, November 7
Arisa White is a Cave Canem fellow, a graduate of the University of Massachusetts, Amherst, and author of the chapbooks Disposition for Shininess and Post Pardon (which will soon be made into an opera), as well as the full-length collections Hurrah's Nest and A Penny Saved. Her debut collection, Hurrah's Nest, won the 2012 San Francisco Book Festival Award for poetry and was nominated for a 44th NAACP Image Award, among others. Member of the PlayGround writers' pool, her play Frigidare was staged for the 15th Annual Best of PlayGround Festival. White is co-editor for HER KIND, an online literary community powered by VIDA: Women in Literary Arts, and editorial manager for Dance Studio Life magazine. 
David Lazar
Thursday, November 21
Books by David Lazar include Occasional Desire, The Body of Brooklyn, Truth in Nonfiction, Powder Town, Michael Powell: Interviews, and Conversations with M.F.K. Fisher. Forthcoming are Essaying the Essay and After Montaigne. This fall he is curating a digital chapbook on nonfiction editing for Essay Press. Five of his essays have been named "Notable Essays of the Year" by Best American Essays. He created the undergraduate and doctoral programs in nonfiction writing at Ohio University and directed the creation of the undergraduate and Master of Fine Arts programs in nonfiction writing at Columbia College Chicago. He is the founding editor of the literary magazine Hotel Amerika, now in its thirteenth year. Hotel Amerika has been called one of the essential literary magazines of the United States and has been represented in Best American Poetry, the Pushcart Prize Anthology, and Best American Essays. 
Publications by these authors are available for purchase at the USI Campus Store and Barnes and Noble Booksellers.
Presented by USI's College of Liberal Arts, the RopeWalk Visiting Writers Reading Series is made possible through the support of Southern Indiana Review, USI Society for Arts and Humanities, National Endowment for the Arts, Indiana Arts Commission, and USI Student Writers Union. 
For more information, contact Nicole Louise Reid, director of the RopeWalk Reading Series, at 812/464-1916.