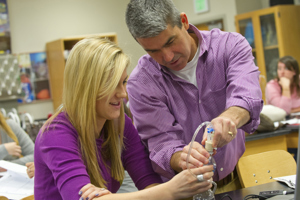 Dr. Jeff Thomas, professor of education, is first to praise his colleagues and cast a spotlight on their achievements, but his own achievements have made major impacts as well. His community projects and outreach earned him the Sydney L. and Sadelle Berger Faculty Community Service Award in 2014. His collaborations and efforts have provided resources to new educators, helped them develop professionally, promoted children's literature and has helped Indiana recruit and retain science teachers.
Community outreach and involvement is something that was instilled in him early on by Dr. Thomas Pickering, dean emeritus of USI's former Bower-Suhrheinrich School of Education and Human Services, and Dr. Jane Davis-Brezette, associate professor emerita of physical education, who served as interim dean after Pickering retired. "When I first came to USI, they helped me breathe life into my ideas and things I wanted to achieve," said Thomas.
Mentorship
Thomas serves as a knowledgeable and reliable mentor to new faculty at USI, has developed modules for faculty training in other states and has been an impeccable resource to the Evansville Vanderburgh School Corporation (EVSC). "Jeff has strong ties to the educational community in Evansville and across the region," said Dr. Clarissa Willis, associate chair and associate professor of education at USI.
"His experience and expertise as a professor helps guide early career faculty," said Dr. Jill Raisor, assistant professor of education. "His ability to listen, consider multiple perspectives, offer suggestions and follow-up helps establish a true feeling of collegiality."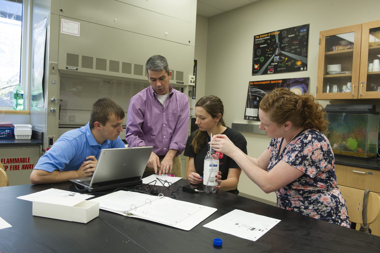 To counter the national problem of recruiting and retaining science teachers, Thomas partnered with representatives of Indiana University and Butler University to set up a mentor/mentee program to save time and money on new teacher training. "We identified lead teachers to mentor new teachers using video," said Thomas. "Mentees could upload the video lesson they wanted feedback on and grant access to the mentor. Because we see what new teachers want to be evaluated on and what is important to their success, it impacts the way we train and prepare our teachers at the University."
After year one, 99 percent of the teachers in the program have been retained. Thomas recently received word that the program has received additional funding of more than $500,000 by the Indiana Commission for Higher Education through the 2017 STEM Teacher Recruitment Fund Grant Program.
STEM camp
In collaboration with Dr. Rick Hudson, associate professor and chair of mathematics, and Dr. Doris Mohr, associate professor of mathematics, Thomas helped EVSC teachers develop lessons for a Science, Technology, Engineering and Math (STEM) camps attended by more than 200 area children. These interactions with elementary teachers have proven to be mutually beneficial. "We're dead in the water without our partnerships with the schools," said Thomas. "We're providing them the next generation of teachers, yet at the same time, we need them to give us feedback about how to make our program better.
Faculty training
Conferences have presented the opportunity to not only showcase the research put in by USI's faculty, but to elevate the University itself. After a joint presentation with Dr. Joyce Gulley, professor of education, they were approached by a representative of East Carolina University who attended their presentation on faculty Web 2.0 tools training and was impressed enough to ask them to develop learning modules for their Learning Center.
Improving education
Thomas' schedule is packed with ways to improve and grow USI's education programs and provide opportunities for both elementary teachers and USI faculty to strive. "He has a national reputation in science education," said Gulley. "He has received awards for advising, teaching, scholarship and service. However, he doesn't ever choose to be in the spotlight. He makes those around him shine."