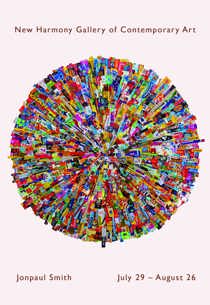 A new exhibition of woven works by Jonpaul Smith is now on display at the New Harmony Gallery of Contemporary Art. The exhibition is free and open to the public through August 26. A closing reception will be held at the Gallery from 4 to 7 p.m. Saturday, August 26, during the Art and Antique Stroll.
Smith's woven and constructed paper pieces are formed from a variety of materials, including the packaging of everyday household items. His process involves two stages.
"I consider my process to be one of gathering and disseminating information," said Smith. "As I create and gather this material/information, I begin combining seemingly unrelated material into an assemblage like form."
Smith then reassembles the strips of material into compositions through a painstaking process of assemblage, weaving and overlapping.
"Once one of these assemblages is created, I begin another in response to the first. I try to create a conversation between the two assemblages; whether this is through imagery or solely based in aesthetic color choices. After the two assemblages exist, I hand cut them with a razorblade and straightedge into strips. These strips are kept organized and then the two separate images/collages are woven together creating the final work."
The final works range in size from 9 inches to 16-foot-long, with most works averaging 4 to 6 feet.
Smith received his Master of Fine Arts and graduate certificate in museum studies from the University of Cincinnati. He obtained a bachelor's degree from Hanover College and studied fine arts at the University of Wollongong in Australia. Smith frequently conducts visiting artist seminars, has received numerous grant awards and scholarships and has completed a residencies and exhibitions in Budapest, Hungary and Paducah, Kentucky. Smith is currently the working artist in residence at Tiger Lily Press in Cincinnati, Ohio.
The activity is made possible in part through support from the Indiana Arts Commission and the National Endowment for the Arts.
The New Harmony Gallery of Contemporary Art is a program within University of Southern Indiana Outreach and Engagement and is located at 506 Main Street in New Harmony, Indiana. Regular hours are 10 a.m. to 5 p.m. Tuesday through Saturday, and noon to 4 p.m. Sunday. For more information, contact Garry Holstein, at 812-682-3156 or visit USI.edu/nhgallery.